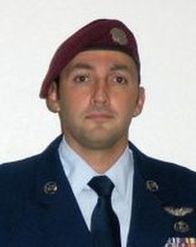 TSgt. MICHAEL P. FLORES - U.S. Air Force
Hometown / City: San Antonio, TX
Date of Death: Wednesday, June 9, 2010
Conflict: Operation Enduring Freedom (Afghanistan)
Branch: U.S. Air Force
Rank: Tech. Sgt.
Unit: Assigned to 48th Rescue Squadron, Davis-Monthan Air Force Base, AZ.
Birth: Oct. 21, 1978
Austin
Travis County
Texas, USA
Death: Jun. 9, 2010, Afghanistan
Air Force Tech. Sgt. Michael P. Flores, 31, of San Antonio, Texas was assigned to the 48th Rescue Squadron, Davis-Monthan Air Force Base, Ariz. He died June 9, near FOB Jackson, Afghanistan, in a HH-60G Pave Hawk helicopter crash. Also killed were Air Force 1st Lt. Joel C. Gentz, Air Force Staff Sgt. David C. Smith and Air Force Senior Airman Benjamin D. White. Capt. David A. Wisniewski died July 2 at National Medical Center in Bethesda, Md., due to injuries suffered in the crash. Michael is a 1997 Marshall High School graduate. He is married to Tech Sgt Marisa Flores. The couple have two children, Eliana and Michael. In addition to his wife and children he leaves, his father, Leopoldo R. Flores, his mother, Emilia, a sister, Anna and a brother, David. He graduated from John Marshall High School San Antonio, Texas in 1997. After graduation he enlisted in the United States Air Force. Upon completion of Basic Military Training at Lackland Air Force Base, San Antonio, Texas he volunteered for the Pararescue indoctrination course. He excelled as a top graduate followed by a two year pipeline training regiment giving him the skills needed to support their motto "That Others May Live" During his distinguished military career he was awarded the Distinguished Flying Cross for heroism. Michael was a Pararescueman whose skills knew no boundaries, whose warm personality knew no strangers, and whose service to his country will be long remembered. Yet another reminder, Freedom is not free.
Burial:
Fort Sam Houston National Cemetery
San Antonio
Bexar County
Texas, USA