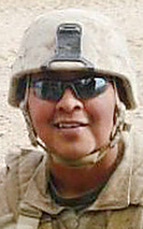 SSgt JONATHON D. DAVIS
Hometown / City: Kayenta, AZ
Date of Death: Friday, February 22, 2013
Conflict: Operation Enduring Freedom (Afghanistan)
Branch: U.S. Marine Corps
Unit: Headquarters Battalion, 32nd Georgian Liaison Team, Regimental Combat Team 7, 1st Marine Division, I Marine Expeditionary Force
Post / Base: Camp Pendleton, Calif.
Jonathan Davis, a Navajo Marine, was serving in Afghanistan when he died Feb. 22.
A Navajo member serving in the Marines in Afghanistan died Feb. 22.
Staff Sgt. Jonathan D. Davis, 34, of Kayenta, Ariz., was involved in combat operations in Helmand province, Afghanistan, when he died, the Department of Defense said Tuesday in a press release.
The release said Davis, based in California, had been serving as part of the Marine Corps' Regimental Combat Team 7.
The Marine Corps Times reported that Davis was a motor transport operations chief.
Neither the Times nor the DOD had details immediately available about how Davis died.
The Marine Corps said in a press release that Davis enlisted with them on Oct. 21, 1997. He fought in both Afghanistan and Iraq, earning awards including the Purple Heart, the Iraq Campaign Medal, the Global War on Terrorism Service Medal and the Combat Action Ribbon.
The Navajo Nation honored Davis in a press release.
"The Navajo Nation mourns the loss of a warrior who gave his life defending freedom," Navajo Nation president Ben Shelly said. "We are saddened by the loss of our warrior and we offer our prayers to the family during this difficult time."
According to the press release, Davis helped win two state high school basketball championships in his home town of Kayenta.
The Navajo Nation flag will be lowered from sunrise Tuesday through March 1, as well as on the day of Davis' funeral service, in order to honor his legacy. Arizona Gov. Jan Brewer ordered that flags at all state office buildings be lowered to half-staff from sunrise to sunset Tuesday in honor of Davis.
The press release said Davis is the 14th Navajo to die in Operation Enduring Freedom.
The Associated Press contributed to this report.