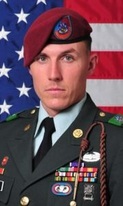 STAFF SGT. RICHARD L. BERRY
Hometown / City: Scottsdale, AR
Date of Death: Sunday, July 22, 2012
Conflict: Operation Enduring Freedom (Afghanistan)
Branch: U.S. Army
Rank: Staff Sgt.
Unit: 508th Special Troops Battalion, 4th Brigade Combat Team, 82nd Airborne Division
Post / Base: Fort Bragg, N.C.
Birth: Feb. 27, 1985
Hoffman Estates
Cook County
Illinois, USA
Death: Jul. 22, 2012
Kandahar, Afghanistan
Staff Sgt. Richard L. Berry, 27, of Scottsdale, Ariz., died July 22 in Kandahar, Afghanistan, of wounds suffered from an enemy improvised explosive device. They were assigned to the 508th Special Troops Battalion, 4th Brigade Combat Team, 82nd Airborne Division, Fort Bragg, N.C.
Obituary: N/A
Services: A funeral Mass will be held at 10:00am, Saturday, August 11, 2012 at Our Lady of Perpetual Help Catholic Church, 3801 N. Miller Rd., in Scottsdale. Ricky will be buried at Arlington National Cemetery in Arlington, Virginia, at a later date. Visitation: A visitation is scheduled from 5:00-9:00pm, Friday, August 10, 2012, with a scripture service at 7:00pm at Messinger Mortuary, 7601 E. Indian School Rd., in Scottsdale. Ricky was a dedicated soldier and leader. He joined the Army on Feb 23, 2006 as a combat engineer. He had previously been deployed to Iraq with the 1stInfantry Division from September 2006 to November 2007 and Afghanistan from August 2009 to February 2010, also with the 4th BCT, 82nd Airborne Division. This was his third deployment. Ricky earned his first Purple Heart during his previous deployment to Afghanistan from an IED blast that destroyed their Humvee. Ricky pushed himself to recover much earlier than anticipated. Within a few months of his injury, he rejoined the Diablo & Sapper teams, and attended Airborne & Sapper Schools before going thru the Urban Master Breacher Course from which he was the honor graduate. His unit considered him a tremendous leader, paratrooper and man. SSG Berry's awards include the Bronze Star Medal, the Purple Heart with Oak leaf cluster, the Army Commendation Medal with four Oak leaf clusters, the Army Good Conduct Medal with two knots, the National Defense Service Medal, the Afghanistan Campaign Medal, the Iraq Campaign Medal, the Global War on Terrorism Service Medal, the NCO Professional Development Medal, the Army Service Ribbon, the Overseas Service Ribbon, the Nato Medal with Bronze Star, the Combat Action Badge and the Basic Parachutist Badge. More than just a celebrated soldier, Ricky was a loving husband, son, brother and friend. He is survived by his wife Laureen Lopez Berry; parents Richard & Patricia Berry; brother Christopher Berry; brother James Berry of Chandler, AZ; Grandparents Harlan & Shirley Willmann of Mesa, AZ and his family, friends and colleagues whose lives he immeasurably touched. Obituary provided by Messinger Mortuary.
Burial:
Arlington National Cemetery
Arlington
Arlington County
Virginia, USA
Plot: Section 60 Site 10193