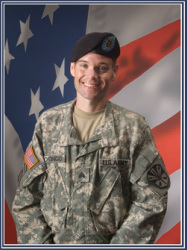 SSG. JONATHAN HOWARD MONZINGO
Hometown / City: Safford
Date of Death: July 12, 2011
US Army National Guard
HM1-029A
Funeral services for Jonathan Monzingo, 28, of Fort Hood, Texas, and formerly of Safford will be conducted Saturday, July 23, at 10 a.m. at the Safford LDS Stake Center by Brother Brent Beals. Concluding services with military honors conferred by the United States Army Fort Huachuca Honor Guard Detail will follow in the Safford Cemetery.
Jonathan Howard Monzingo was born March 24, 1983, in Morenci, the son of Garry and Judy Monzingo. Jonathan attended school in Safford, where he was involved in mechanics and was often found working on teachers' vehicles. Jonathan also enjoyed working on all types of machinery with his father and his Uncle Larry.
Following his graduation with honors from Safford High School in 2001, Jonathan worked for several local businesses, including Coca-Cola, the Eastern Arizona Ag Center and as a mail carrier for the United States Postal Service.
On April 22, 2002, Jonathan enlisted in the United States Army National Guard. In January 2007, he was called to serve his country in Afghanistan and Operation Enduring Freedom.
In October of that same year, Jonathan returned home to the states and was stationed at Fort Hood, Texas. While enlisted in the U.S. Army, Jonathan started as a private and completed his service as a staff sergeant.
Jonathan's dreams were to always provide for his family, to finish his 1931 Ford Coupe and to build his home with a huge shop on 10 acres of land in Arizona. Jonathan will be remembered as a loving husband, father and son.
Jonathan passed away Tuesday, July 12, 2011, in Temple, Texas, following a valiant four-year fight with cancer.
Jonathan is survived by his loving wife, Tamarah; and daughter, Hailey of Fort Hood, Texas; his mother and father, Judy and Garry Monzingo of Safford; and his in-laws, Debbie and Drew John of Safford.
The family will receive friends Friday, July 22, from 6 to 8 p.m. at the Vining Funeral Home and Saturday from 9 to 9:45 a.m. at the Safford LDS Stake Center Relief Society Room.
Obit: Vining Funeral Home, Safford, Arizona.
Burial:
Safford City Cemetery
Safford
Graham County
Arizona, USA