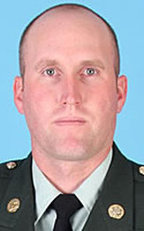 STAFF SGT. JASON A. REEVES - U.S. Army
Hometown / City: Odessa, TX
Date of Death: Sunday, December 5, 2010
Conflict: Operation Enduring Freedom (Afghanistan)
Branch: U.S. Army
Rank: Staff Sgt.
Unit: 2nd Military Intelligence Battalion, 66th Military Intelligence Brigade
Post / Base: Hohenfels, Germany
Birth: Jun. 9, 1978
Lubbock
Lubbock County
Texas, USA
Death: Dec. 5, 2010, Afghanistan
Funeral services for Jason Reeves, 32, were held at Sun City West Christian Church in Sun City West, Arizona on December 18, 2010 at 10 a.m. Internment was at the National Memorial Cemetery of Arizona.
Jason was born June 9, 1978 in Lubbock, Texas. He died December 5, 2010 in Afghanistan.
Jason's dad David Reeves was serving in the U.S. Air Force and moved the family to Okinawa, Japan along with his mom Ruthie (Moize) Reeves and his sister Stacy from 1983 through 1990. The Reeves family moved to Peoria, Arizona in 1990 where Jason attended school at Sun Valley Junior High and Peoria High School. He joined the U.S. Army in 2000 in Odessa, Texas and served proudly for 12 years.
The Reeves family has lots of family (Medlock, Hornsby and Womack) in Lubbock as well as friends from 25th Street Baptist Church and Friendship High School.
His survivors include his father and mother, David and Ruthie Reeves of Apple Valley, California; sister, Stacy Reeves Roeber; brother-in-law, Randall Roeber; grandparents, Charles and Dolores Reeves of Sun City West, Arizona and Earl and Waunell of Odessa, Texas; nieces, Alexis and Tatum Roeber; nephew, Revin Roeber; uncles, Mark, Dennis, Kevan and Warren; aunts, DeeLana, Pam and Ligaya; cousins, Kristan, Nathan and Devan.
Jason was preceded in death by his uncle, Greg Reeves in 2007.
Burial:
National Memorial Cemetery of Arizona
Phoenix
Maricopa County
Arizona, USA
Plot: Section 57 Site 1