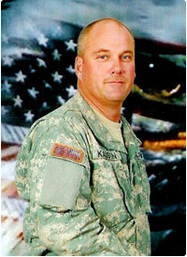 SSG. DARREL D. KASSON - U.S. Army
Hometown / City: FLORENCE, AZ PINAL
Date of Death: Sunday, March 4, 2007
Conflict: Operation Iraqi Freedom (Iraq)
Branch: U.S. Army
Rank: Staff Sgt.
Unit: 259TH ENGINEER COMPANY, PHOENIX, AZ
Birth: Feb. 5, 1964
Tucson
Pima County
Arizona, USA
Death: Mar. 4, 2007, Iraq
Staff Sgt. Darrel D. Kasson, 43, of Florence, Ariz.; was assigned to the 259th Engineer Company, Arizona National Guard; died March 4 in Tikrit, Iraq, of wounds sustained when an improvised explosive device detonated near his vehicle at Bayji, Iraq. Survived by his wife Lori Kasson of Florence; mother Sharon Jones of New Mexico; children Lisa Varnes of MI, Jeremy and Dale Kasson, both of Florence; grandchildren McKenzie and Dakota Varnes; brother Darren Kasson of WA; sister Kimberly Kasson of CA and grandfather Leo Kasson of Tucson.
Burial:
Evergreen Memorial Park
Tucson
Pima County
Arizona, USA
Darrel Dwayne Kasson was born in Tucson, AZ, where he grew up and lived most of his life. In 1993, he began work in Florence as a Department of Corrections Officer and served as a deacon and youth leader in the Florence Baptist Church. SSG Kasson left behind his wife Lori and children, Lisa, Jeremy, and Dale.
He enlisted in the Arizona Army National Guard on 24 February 1987 and was trained as a 13B Cannon Crewmember. He was a member of Battery B, 2-180th Field Artillery in Tucson and Battery A, 2-180th FA located in Phoenix. SSG Kasson was transferred to the 259th Engineer SECFOR and mobilized on 1 August 2006.
SSG Darrel D. Kasson was killed in action on 4 March 2007 while serving as the lead vehicle commander for a 27 vehicle convoy logistic patrol in the vicinity of Bayji, Iraq. While heading back to LSA Anaconda, SSG Kasson's vehicle was hit by an Improvised Explosive Device.
SSG Kasson's awards include the Bronze Star Medal, Purple Heart, Army Achievement Medal, Army Reserve Components Achievement Medal (4th Awd), Armed Forces Reserve Medal (2nd Awd)("M" Device), National Defense Service Medal (2nd Awd), Iraq Campaign Medal, Overseas Service Ribbon, Arizona National Guard Southwest Asia Service Support Ribbon, and Combat Action Badge.