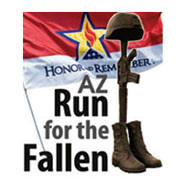 SPC. TODD W. FREW
Hometown / City: Buckeye
Date of Death: August 25, 2009
Arizona National Guard
HM2-103
Todd W. Frew, 23, of Buckeye, Ariz., brother of a Washington woman, died Tuesday, Aug. 25, 2009, in Buckeye.
Todd was born on June 19, 1986, in Phoenix to parents, Ken and Marcia Frew.
He grew up in Buckeye, where he attended Buckeye schools and had graduated from Buckeye High School in 2005. While in high school, he had been active with the football and wrestling teams.
He had been a member of the Arizona National Guard and in November 2006 was sent to Iraq. On March 4, 2007, a vehicle in which he was riding was struck by enemy fire and Todd was severely injured. He was returned to the states and received treatment at Fort Gordon, Ga. At the time of his passing, he was on medical leave from the service.
Surviving are his parents, Ken and Marcia Frew of Buckeye; sister, Randi (Jim) Shaffer of Washington; brother, Tyler Frew of Buckeye; maternal grandparents, Cliff and Judy Thurman of Fairview; paternal grandparents, Glenn and Joan Frew of Republic, Kan.; and a niece, Ashley Shaffer.
Funeral services will be held on Tuesday, Sept. 1, at 10:30 a.m. at the First Southern Baptist Church in Buckeye. Interment will be in the Louis B. Hazelton Memorial Park in Buckeye, with full military honors.
- See more at:
Obituary