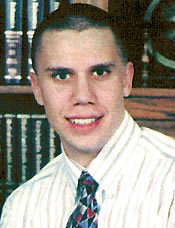 SPC. SHAWN A. MAYERSCIK
Hometown / City: Surprise
Date of Death: March 11, 2003
US Army
HM2-113A
Honor guard members lead the way as pallbearers from the Army's 10th Mountain Division carry Shawn Mayerscik's casket into St. Stephen Church on Thursday morning before funeral services. Mayerscik was among 11 soldiers killed when a Black Hawk helicopter crashed during a training exercise near Fort Drum, New York. One day after coalition forces launched a war with Iraq, Oil City bid farewell to one of its own servicemen - a young man who was eager to see action in the Middle East.
Shawn Alan Mayerscik, 22, of 17 Oakwood Drive and 10 others were killed in a Black Hawk helicopter crash March 11, 2003, in a wooded area outside Fort Drum, N.Y. The Army soldiers had completed an assault exercise and were returning to their airfield when the crash occurred.
"Shawn didn't lose his life just training," Army Captain Scott Austin told the congregation at a funeral mass Thursday. "He lost his life (training to defend our country)."
Austin was one of several enlisted Army men who paid tribute to their fallen comrade. The beret-wearing and green-suited men served as pallbearers and also fired a 21-gun salute from the front steps of St. Stephen Church at State and East First streets.
An emotional Austin, frequently stopping mid-sentence, spoke warmly of the humble friend he was proud to serve beside. He stood just feet from Mayerscik's flag-draped, gray casket in the church, behind which was a shadow box display of the Oil City High School graduate's military awards and service patches. The Army specialist had the awards mounted as a birthday gift for his mother, Kathy, in January.
Also on display was Mayerscik's latest commendation, the Meritorious Service Award, which he posthumously received March 12.
The small medals and badges in the box flanked one large patch in the center of the display. It read "Operation Enduring Freedom." Mayerscik served with U.S. forces in Afghanistan shortly after President Bush declared war on terrorism in September 2001.
"He fought for glory and honor," Austin said.
"This young man was in Afghanistan saving the lost, picking them up and bringing them home," said the Rev. Jeffrey Noble.
Austin said Mayerscik was psyched about moving onward to what he called the "big show" in Iraq. That goal was stopped short March 11.
"On March 11, 2003, a Black Hawk went down but rising from that accident was a nation freer and stronger. A Black Hawk went down, but rising from that accident was a family and community proud of one of its own. A Black Hawk went down, but rising from that accident was a man born to new life in Christ," Noble said.
Kathy Mayerscik said last week her son was excited about the prospect of being deployed to Iraq, but that hadn't yet happened because of Turkey's wavering support of a U.S.-led coalition against Iraq.
Austin thanked the decorated Army Ranger for his service and prayed he would watch over fallen servicemen who went before him as well as those now fighting overseas.
"Take care of them. Lead them," Austin said. "Thank you for supporting my soldiers and me. The honor was truly ours."
Noble also wove together a tapestry of life events Thursday that fashioned the brave soldier, son and brother lost to the Mayerscik family earlier this month.
Kathy Mayerscik had said her son wanted to be a part of the military from the time he was 15. He joined the Army through the deferred enlistment program. And as a member of the 10th Mountain "Polar Bears," Mayerscik was remembered Thursday as a youngster holding a rifle, seemingly knowing he was cut out for service in the U.S. armed forces.
"He would one day be the right man for the job," Noble said, drawing a parallel between God's call to Moses to free and save his enslaved people and Mayerscik's call to serve the United States.
Noble said the Mayersciks moved from Johnstown to Oil City in the 1990s. Here, a teen-age Shawn Mayerscik - quiet at first - quickly became immersed in his new community, making a legion of friends.
"All the while he (knew) what he was and where he was heading," Noble said of Mayerscik's call to serve his country. "We come here to recognize his awesome deeds."
"I want my brother to be remembered as a hero - not only with the Army, but in his everyday life. ... The things he did in his 22 years, most people won't do their whole lives," said Mayerscik's sister, Stacey.
Noble stirred a round of applause during Thursday's service when calling to mind President Bush's words late Wednesday to servicemen and women stationed in the Middle East: "Our trust in you is well placed." He said the applause was to honor U.S. armed forces just one day into Operation Iraqi Freedom, as well as the fallen Mayerscik.
"While it's out of the ordinary, I would like to begin by thanking you," Noble said. "We come here to honor, to express our gratitude for someone who was the right man for the job."
Mayerscik will be buried Thursday, April 3, 2003, in Arlington National Cemetery with full military honors.