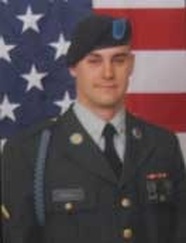 SPC. PATRICK A. TINNELL - U.S. Army
Hometown / City: LAKE HAVASU CITY, AZ MOHAVE
Date of Death: Wednesday, April 19, 2006
Conflict: Operation Iraqi Freedom (Iraq)
Branch: U.S. Army
Rank: SPC
Unit: COMPANY C, 1ST BATTALION, 187TH INFANTRY, 3D BCT, FORT CAMPBELL, KY
Birth: Mar. 25, 1981
Los Angeles County
California, USA
Death: Apr. 19, 2006, Iraq
Pfc. Patrick A. Tinnell of Lake Havasu City, Ariz., graduated from Lake Havasu High School in 2000. In the period between graduating and joining the Army he worked for a Havasu pest control company and also as a BMX rider for MBK Bikes. His bike was like his purse. He had to take it everywhere with him. BMX riding was his sport. Patrick would volunteer his time at Teen Break, a Park and Rec alternative for spring break students, setting a good example to the kids. He was the first person to jump his bike over an elephant during Teen Break 1999, and he will also be remembered most for his meticulously clean habits and also as a comedian. Patrick's cleanliness to the point where he would use a toothbrush and Windex to clean his tennis shoes on a daily basis earned him a "neat freak" reputation in Iraq. They teased him in Iraq for sweeping all the time. He would say to his mom, 'When I come home, I'll show you girls how to clean'. He joined the Army in September 2005. He could have done anything he wanted but he chose infantry. Patrick was a dedicated soldier and his last assignment was to train the new Iraqi army. He was also was an anchor for his mother. In every letter he wrote home and in every phone call she received, he ended conversations with "I love you" and never stopped providing for her. He is survived by his parents and brother Phillip. Patrick died in As Siniyah, Iraq when a vehicle-borne improvised explosive device detonated during a dismounted combat patrol at age 25. He is the first known Havasuvian to be killed in Iraq. He was awarded posthumously with a Bronze Medal, Silver Star and Purple Heart.
Army
1st Battalion
187th Infantry Regiment
3rd Brigade Combat Team
101st Airborne Division (Air Assault)
Fort Campbell, Ky.
Burial:
Lake Havasu Memorial Gardens
Lake Havasu City
Mohave County
Arizona, USA