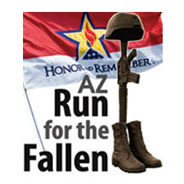 SPC. MICHAEL ANTHONY PICCOLO
Date of Death: December 6, 2013
US Army National Guard
HM3-122B
Michael was raised in a hard working blue collar family in the Mining Town of Bagdad AZ. Along with working in the Mine, SPC Piccolo was also a Volunteer Fire Fighter in the Town of Bagdad. He still felt like he had more to offer so on February 7, 2009 he joined the Arizona Army National Guard. Out of all the career paths he had to choose from, SPC Piccolo chose one of the most physically, mentally and emotionally demanding of all. He asked to be a Combat Medic with the Infantry. After returning from Medic school, he quickly soared above his peers and was promoted to E 4 Specialist, and was selected to be the Medic to accompany the Scout Sniper Platoon on all of their training missions. SPC Piccolo served flawlessly.
When he was not working he loved to have fun. He had a four wheel drive truck that he kept in immaculate condition but at the same time was not afraid to get dirty. Above all his favorite pass-time was to hunt.
According to his NCO, if you were to hang out with SPC Piccolo you would knowhe loved all types of music except RAP, but his all time favorite band was KISS. He may possibly have the largest KISS tattoo of all time on his back that he had autographed by the band. Before the autographs had a chance to come off he ran down to the closest tattoo shop and had the autographs tattooed on him as well.
SPC Piccolo leaves behind his mother Brenda and father Michael, his wife Lilly Anna, and his daughter Presley.