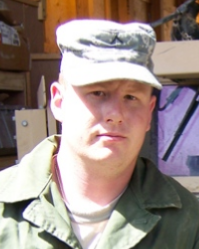 SPC. JONATHAN HUGHEY
Hometown: Phoenix, AZ
Date of Death: January 1, 2010
Branch: US Army
Rank: Spc
Unit: 32nd Engineer Battalion, Fort Hood.
Spc. Jonathan L. Hughey, 24, of Phoenix, Ariz., joined the military in March 2007 as an wheeled vehicle mechanic. He was assigned to Forward Support Company, 62nd Engineer Battalion, 36th Engineer Brigade, since October 2009.
Hughey deployed in Support of Operation Enduring Freedom from April 2008 through July 2009.
Hughey's decorations and awards include the Army Commendation Medal, National Defense Service Medal, Afghanistan Campaign Medal, Global War on Terrorism Service Medal, NATO Medal, and the Army Service Ribbon.