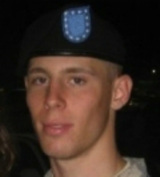 SPC. FREDDY J. HOOK, JR.
Hometown / City: Goodyear
Date of Death: December 25, 2010
US Army
HM3-138A
Spc. Freddy J. Hook was born November 29, 1990 in Fort Ord, CA, and died a decorated medic of the 82nd Airborne in Ft. Bragg, NC, on December 24, 2010.
He is survived by loving parents, sisters, brothers, family and friends.
Freddy's last deployment was to Haiti for humanitarian aid in Operation Unified Response. Helpful and kind to all he knew and loved by all who knew him, Freddy will always be a hero. His last act of generosity, organ donation, gave the gift of health to many others on Christmas Day, 2010.
He will be remembered by friends and family on Sunday, January 9, 2011, at 3 P.M., at his home church, Amana Christian Fellowship, 310 Milton Rd., Maurice, LA 70555.
In lieu of flowers, please make a donation to your home church.
- See more at:
Obituary