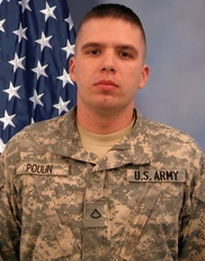 SPC. DENNIS C. POULIN - U.S. Army
Hometown: Cumberland, RI
Date of Death: March 31, 2011
Conflict: Operation Enduring Freedom
Branch: Massachusetts Army National Guard
Rank: Specialist
Unit: 1st Bn, 181st Inf Regt, Army NG, Milford, Mass.
Birth: Jan. 24, 1985
Pawtucket
Providence County
Rhode Island, USA
Death: Mar. 31, 2011, Germany
Spc. Dennis C. Poulin, 26, of Cumberland, R.I., died March 31 in the Landstuhl Regional Medical Center, Landstuhl, Germany, of injuries sustained on March 28 in Konar province, Afghanistan, from a non-combat related incident. He was assigned to the 1st Battalion, 181st Infantry Regiment, Massachusetts National Guard, Milford, Mass. Besides his parents, Doris E. Poulin and Richard H. Renau, he leaves his son, Nikolous Cullen Poulin; two sisters, Jennifer Poulin and Angelique Renau; aunts and uncles, Grace and Paul Norton, Debra and Richard Higgins and Joseph and Sandra Cullen and several cousins. He was the grandson of the late Aldore and Alice Poulin and the nephew of the late Dennis Cullen.
Burial:
Saint Anns Cemetery
Cranston
Providence County
Rhode Island, USA