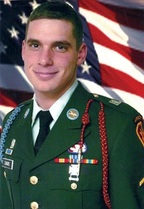 SPC CURTIS JAMES DAVIS
Hometown: N/A
Date of Death: March 14, 2010
Branch: US Army
Rank: SPC
Unit: Crusader Troop, 1st Squadron, 40th Cavalry Regiment, of the 4th Brigade Combat Team (Airborne), 25th Infantry Division, Alaska
Birth: Oct. 21, 1989, Australia
Death: Mar. 14, 2010
Specialist Curtis James Davis was born on Oct. 21, 1989, in Perth, Australia, but spent most of his years in San Diego, Calif. He enlisted in the Army on the 6th of March, 2008, and attended One Station Unit Training at Fort Benning, Ga. Upon completion of both Infantry and Airborne training, SPC Davis was assigned to Crusader Troop, 1st Squadron, 40th Cavalry Regiment, of the 4th Brigade Combat Team (Airborne), 25th Infantry Division, Alaska, where he served honorably as a Squad Automatic Weapon Gunner in 3rd Platoon.
Soon after joining the unit, SPC Davis deployed to the national Training Center in Fort Irwin, Calif., in preparation for Operation Enduring Freedom. He deployed to Afghanistan on the 19th of February, 2009. By every account he performed his duties with a vigor that endeared him to both peers and leadership. On the 7th of February, 2010, Specialist Davis returned to Fort Richardson, Alaska, having admirably completed a 12-month combat deployment.
Curtis James Davis died in Providence Hospital, Anchorage, on the 14th of March 2010.
He received two Army Commendation Medals, the Good Conduct Medal, the National Defense Service Medal, the Afghanistan Campaign Medal, the Global War on Terrorism Service Medal, the Army Service Ribbon, The Overseas Service Ribbon, the NATO Service medal, the Combat Infantry Badge, the Parachutist Badge, and the Driver's and Mechanic's Badge.
Curtis is survived by his wife Victoria Davis and his 4-month-old son Cayson Davis of Anchorage, Alaska; his mother, Jerri Bayles, and stepfather, Henry Bayles, of Prescott, Ariz.; his father Roy Davis, his brother Kristopher Davis of San Diego, Calif.; his sister Caitlin Davis of Prescott, Ariz.; and maternal grandparents Marjorie and Jim Niergarth of Michigan.
Visitation is 2-4 p.m. Saturday, March 27, 2010, at Arizona Ruffner Wakelin Funeral Home. Services are 2 p.m. Monday, March 29, at Prescott National Cemetery.
Information provided by survivors.
Obituary published in Prescott Daily Courier.
Burial:
Prescott National Cemetery
Prescott
Yavapai County
Arizona, USA
Created by: Barb
Record added: Mar 26, 2010
Find A Grave Memorial# 50225953