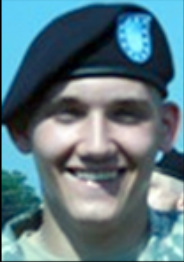 SPC. CODY NICHOLAS PALMASON
Hometown / City: Avondale
Date of Death: May 20, 2013
US Army
HM2-079A
Cody Nicholas Palmason, 21, of Litchfield Park died on May 20, 2013, in Litchfield Park. Mr. Palmason was born Sept. 1, 1991, in Charleston, S.C., to Kelly Nicholas Mead and Stephen Palmason.
He served in the Army from April 4, 2009, to Nov. 16, 2012, as a weapons specialist infantryman during Operation Enduring Freedom.
From 2011 to 2012, he served with the "Bastard Company 2nd Battalion 27th Infantry Regiment" Wolfhound 3rd Brigade 25th infantry division, where he received the Army Commendation Medal with Oak Cluster, National Defense Service Medal, Afghanistan Campaign Medal with two campaign stars, Overseas Service Ribbon (second award), Nato Medal, Combat Infantryman Badge, Global War on Terrorism Medal and Army Service Ribbon.
He is survived by his mother, Kelly Mead; his father, Steven Palmason; his stepfather, Brian Mead; three siblings, Evan, Bryant and Rileyann; six grandparents, Shirley and Roger Nicholas, Michele Greer, Stephan Palmason, Gerald Greer and Sharon Mead.
A visitation will be from 6 to 9 p.m. May 28 at Thompson Funeral Chapel, 926 S. Litchfield Road in Goodyear. Burial service information can be found at www.thompsonfuneralchapal.com.
Condolences and donation cards can be sent to Thompson Funeral Chapel, 926 S. Litchfield Road, Goodyear, AZ 85338.