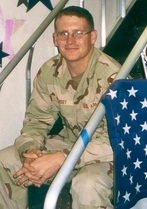 SPC. CARSON J. RAMSEY - U.S. Army
Hometown / City: WINKELMAN, AZ GILA
Date of Death: Sunday, October 10, 2004
Conflict: Operation Iraqi Freedom (Iraq)
Branch: U.S. Army
Rank: SPC
Unit: C COMPANY, 2D BATTALION, 8TH CAVALRY, 1ST CALVARY DIVISION, FORT HOOD, TX 76544
Birth: Jan. 4, 1982, USA
Death: Oct. 10, 2004
Baghdad, Iraq
U.S. Army Pvt. Carson Ramsey, 22, a personable young man from Winkelman who enjoyed hunting, fishing and fast motorcycles, was killed Sunday in Iraq when an improvised bomb exploded near his military vehicle.
When he came home on leave this summer, he exhibited a workmanlike attitude to the dangers he faced, said his father, Cecil.
"When he went back, I said, 'Aren't you worried about going back?' and he said, 'No, it's my job,' " his father recalled.
A member of the 1st Cavalry Division based in Fort Hood, Texas, Carson Ramsey was fatally injured when a car bomb was detonated outside an east Baghdad market as an American military convoy was passing by.
He was among at least 11 people killed in one of two nearly simultaneous car bombings in Baghdad. The other took place near an east Baghdad police academy.
He was planning to get out of the Army when he returned from his tour of duty in Iraq in February, his father said.
A 2001 graduate of Ray High School in Kearny, Carson did well academically, and loved the outdoors, said his father. Winkelman and Kearny are communities some 90 minutes southeast of Phoenix.
"He liked to hunt and fish," his father said. "He was going to get a Harley when he got back. He liked motorcycles."
Carson's latest enthusiasm was bowhunting. He had gotten a compound bow, was practicing with it in Iraq, his father said.
He was someone who got along well with people.
"He was really outgoing," his father said. "Really friendly. He never got in any trouble."
Interment 10/19/04. In addition to his father, Carson Ramsey is survived by his mother, Elaine, a brother, Bobby, 29, and two sisters, Irene, 24, and Sandy, 34.
Veteran Service Dates: 06/21/2001 - 10/10/2004
Burial:
National Memorial Cemetery of Arizona
Phoenix
Maricopa County
Arizona, USA
Plot: SECTION 52 SITE 198