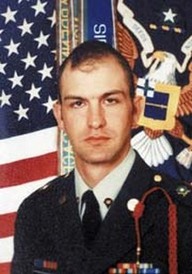 Hometown / City: TUCSON, AZ PIMA
Date of Death: Saturday, August 30, 2003
Conflict: Operation Iraqi Freedom (Iraq)
Branch: U.S. Army
Unit: H TROOP 10TH CAVALRY REGIMENT, FORT HOOD, TEXAS 76544
Birth: Sep. 17, 1974
Tucson, Pima County
Arizona, USA
Death: Aug. 30, 2003, Iraq
In his left hand, Sal Cataudella holds a letter received from his son, Sean, the day before Sean was killed on patrol in Iraq. Sal and Connie Cataudella say getting the letter makes Sean's death a little more bearable.
U.S. Army Sgt. Sean Kelly Cataudella's samurai sword hangs on the wall in the house he grew up in, across the street from Lineweaver Elementary School in midtown Tucson.
His 1873 Winchester rifle remains locked in his dad Sal's safe, along with the rest of his gun collection.
It will be some time before Sal Cataudella handles the guns again, but one day he will show them to his 6-week old grandson Kai, Sean Kelly Cataudella's only son, whom the sergeant will never meet.
The Tucson native died Saturday in Iraq, Defense Department officials said, when the Humvee he was driving rolled into a water-filled canal in Ba'qubah near Tikrit. Initial reports indicate he drowned, apparently while on routine patrol.
Sal Cataudella is angry that he has gotten different accounts of the incident from the Army and said he's been communicating online with support groups ever since he got the tragic news.
"Somehow the other two got out but he was pinned in the truck," Sal said, his voice breaking. "It took 10 minutes to extract him and apparently that's what killed him."
In his parents' living room yesterday afternoon, Sgt. Sean's dog, Weedie, a 13-year-old shepherd-Rottweiler mix, lay mournfully on the carpet.
And in Texas, the 28-year-old's wife, Naomi, reeled from the news of her husband's death.
The two have two daughters, Alex, 7, and Damon, 3. Alex was "Daddy's girl," and Kai, born after his father's death, the loss will be especially hard for her, family members say.
The sergeant's parents, Sal, 63, and Connie, 64, recalled that Sean and Naomi went to Rincon High School together and were best friends before they became sweethearts. He played football and wrestled there.
Naomi is "devastated, doing terrible," Connie says.
The sergeant leaves behind three sisters, Natalie, 43, Stephanie, 41, and Christine, 37. Two have joined their sister-in-law in Texas.
Sal Cataudella retired from the Air Force after 20 years, serving as an avionics technician based in the Philippines, repairing F-100s and F-4s for duty during the Vietnam War. His father served in the Italian Army during World War I.
Connie sat on the family couch yesterday with a few visitors and tried to recall a happier moment in her only son's life.
She remembers when she and her daughters managed to tickle the strapping young man to the floor one Christmas, when he was 16. She chuckles.
Sal Cataudella chokes back his grief as he tries to reconcile what the Army has told him: that his strong, brave son drowned in a Humvee wreck while his two fellow soldiers survived nearly unharmed.
Cataudella had a dangerous job in Tikrit. He was an armored crewman, part of Task Force Ironhorse. He was a scout whose job it was to go out ahead of others and look for the enemy, and had been in Iraq since April.
Sal Cataudella said he's looking for help from soldiers in Iraq to find out what really happened.
He's trying to get information from the "grunts on the ground."
He doesn't know if the incident happened at night or during the day and doesn't know where his son was headed or why.
Reports indicate Sean was driving and drowned in a canal after the Humvee went over an embankment. He reportedly was submerged for more than 10 minutes while attempts were made to free him. Two other soldiers in the Humvee survived with minor injuries.
Why did just his son get pinned in the vehicle? Sal Cataudella wants to know. And why did it take so long to free him?
Last Thursday or Friday, Sal and Connie got a handwritten letter from his son, mailed in the self-addressed envelope the elder Cataudella had sent him. Writing supplies were scarce for the soldiers, Sal Cataudella said.
The sergeant had a sense of humor. The letter was mailed Aug. 13.
"I'm hot, really hot," wrote the sergeant. "It's 135-degrees plus."
"I think I smelled my brains cooking the other day."
"We still do PT (physical training)," he wrote, even in the high heat.
"Most of the time we stay by the truck and give the kids candy."
But then, he wrote, there are the "bad asses" with Ak-47s shooting into the air.
"Then we decide whether or not to arrest him."
The sergeant wrote about the complex situation he and other American forces find themselves in while they try to secure peace and help the Iraqis transition to a new government.
"These people have no appreciation of what they're doing for them," the elder Cataudella said, somewhat bitterly.
Connie said that in the nearly 10 years her only son was in the Army, "We never expected this. He was so careful."
Nevertheless, Sal and Connie Cataudella say, their son had a job to do "over there and that's where he needed to be."
He had survived a tour in Bosnia. Despite dyslexia, he made it to one of the hardest jobs in the military, said his proud father.
"He earned his spurs. And he got his spurs."
Sgt. Cataudella joined the military because he "loved his country and was always an adventurous soul," his father said.
When he graduated from Rincon in 1994, he chose the Army.
His mother saw him for the last time in February in Texas, when his 1st Squadron, 10th Cavalry Regiment, 4th Infantry Division was preparing to ship out.
His father last saw him in Tucson in 2001, when the soldier came here to help nurse his mother after heart surgery.
Neither grandparent has met their newest grandchild, Sean's son.
The sergeant's body will be sent from Tikrit, Iraq, to Naomi Cataudella at Fort Hood, Texas, where the sergeant was stationed before he shipped out.
His remains will be cremated and then buried in Tucson at East Lawn Cemetery his father said.
"He was the gentlest soul you'd ever want to meet," Sal Cataudella said.
"I looked forward to a story he said he was going to tell me about how he jumped a wall (on patrol in Iraq) and almost got kicked by a donkey.
"But I guess I'll have to wait till I see him again to hear that one."
Burial:
East Lawn Palms Cemetery & Mortuary
Tucson
Pima County
Arizona, USA