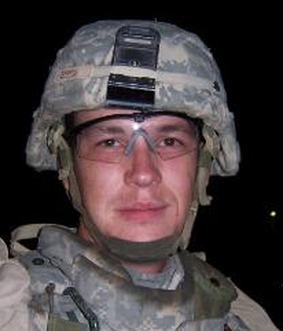 SGT. Robert Scott Eppich
Hometown: Mesa, AZ.
Date of Death: December 19, 2006
Branch: U.S. Army
Rank: Sergeant.
Unit: 204th MP Co.
Birth: 1981, USA
Death: Dec. 19, 2006
Dallas
Dallas County
Texas, USA
Sgt. Robert Eppich returned to the United States after a tour in Afghanistan followed by a tour in Iraq serving with the Army. He was a graduate of Sun Valley High School in Mesa, Arizona, and had been a member of the army since June 1999. He proudly served his nation as an infantryman, an airborne soldier, and most recently as a member of the elite 519th Military Police Battalion where he was challenged with securing the lives of American forces in Baghdad; a job he did with both honor and skill. Robert was married to his high school sweetheart in November 2005 and together they had planned a life of joy after their military service had ended. Robert had been in the forefront of the war on terror and had served in Egypt, Korea, Afghanistan, and Iraq. His quick wit, ready smile, and calm, cooling demeanor were indispensable in the challenges he faced, and his soldiers, family, and friends will quickly attest to his ability to always elicit a smile at any moment, regardless of the situation. He was set for discharge in February 2007 and his new wife was in Iraq serving with the Air Force. Robert was involved in a motor vehicle accident after being home 8 days at age 25.
Burial:
Mountain View Memorial Gardens
Mesa
Maricopa County
Arizona, USA