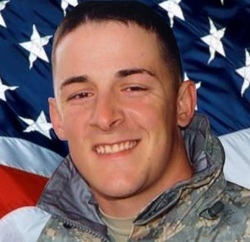 SGT. RICHARD A. VAUGHN - U.S. Army
Hometown / City: SAN DIEGO, CA SAN DIEGO
Date of Death: Monday, April 7, 2008
Conflict: Operation Iraqi Freedom (Iraq)
Branch: U.S. Army
Rank: SGT
Unit: COMPANY C, 1ST BATTALION, 66TH ARMOR, 1 BCT, FORT HOOD, TX
Birth: Mar. 2, 1986
Mesa
Maricopa County
Arizona, USA
Death: Apr. 29, 2007
Baghdad, IraqSgt. Alexander J. Funcheon, 21, of Bel Aire, Kan.; was assigned to the 3rd Squadron, 61st Cavalry Regiment, 2nd Brigade Combat Team, 2nd Infantry Division, Fort Carson, Colo.; died April 29 in Baghdad of wounds sustained when an improvised explosive device detonated near his unit during combat operations. Also killed were Army Pfc. Brian A. Botello and Army Staff Sgt. Jay E. Martin. He is survived by his parents Bob and Karen (Servis) Funcheon, and sister, Gloria, all of KS; grandmothers Elizabeth Funcheon, of AZ; step-grandmother Connie Servis, uncle Don (Lia) Funcheon, of AZ; aunt Ruth Funcheon, of AZ.
Burial:
Kechi Cemetery
Park City
Sedgwick County
Kansas, USA
As a freshman wrestler, Ricky became friends with a senior named Randy Rosacker. "Rosacker lived in Murphy Canyon housing as did Ricky and his family. His father, like Ricky's, was a Navy chief petty officer. Rosacker, a gifted athlete, passed up college sports scholarships to join the Marine Corps."
He kept in touch with Ricky even after he deployed to Kuwait in early 2003 for the invasion of Iraq. Rosacker was killed on the fourth day of the war.
Rosacker's death changed Ricky's life. His half-formed idea of joining the military hardened into a clear plan. Although Ricky's father served in the Navy and his buddy in the Marine Corps, Ricky opted for the Army so he could work on tanks. With his wrestling coaches help whom was also a
recruiter, he enlisted after graduating from Serra High in June 2003.
Ricky served one tour in Iraq from Dec 2005 to Nov 2006. During his 15 months between his first and second tour, he got back in touch with a high school friend. They married Jan 29th, 2008. Ricky left for his second tour March 8th, 2008. His wife found out she was pregnant just 17 days later.
In Sadr City, Spc. Joel Geesaman was with Ricky on April 7 when bombs and rifle fire rocked their convoy.
"I shook the cobwebs out (and) I looked down at Sergeant Vaughn, who was dismounted," Geesaman said during a speech at Vaughn's memorial service in Iraq. "I could see that he was grinning."
Then Ricky got to work, said Capt. Roman Izzo, his commander.
"He moved forward to cover his brothers," Izzo said. "He advanced into hostile fire. Sometimes, even when you do everything right, the enemy slips one by."
Barely a week later, Ricky's wife, parents and brother, drove from their home in Santee to Gillespie Field to bring him home. The family held a memorial service with full military honors on April 17. Ricky wanted to be cremated, so his ashes were spread in the ocean at his favoritre beach where he enjoyed to surf on his following birthday, July 19th.