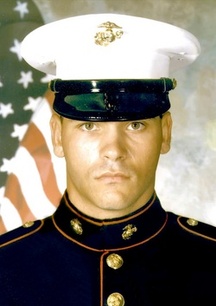 SGT. MICHAEL A. MARZANO - U.S. Marine Corps
Hometown / City: GREENVILLE, PA MERCER
Date of Death: Saturday, May 7, 2005
Conflict: Operation Iraqi Freedom (Iraq)
Branch: U.S. Marine Corps
Rank: SGT
Unit: H&S CO, 3D BN, 25TH MAR, (RCT-2, 2D MAR DIV), 4TH MAR DIV, PHOENIX, AZ
Birth: May 18, 1976
Death: May 7, 2005
Sgt. Michael Adam Marzano, USMC. was from Greenville, PA also Sharon PA in Mercer County and from formerly Butler County PA and recently of Phoenix, Arizona. Son of Albert & Margy K. Attended Karns City School District and Reynolds High School. A graduate of Sharon PA High School 1995, he was attending Glendale Community College in Arizona. He played football, wrestling and an avid boxer winning several amateur boxing titles in Youngstown & Cleveland Ohio including a Golden Glove and Ohio Regional Boxing title;and he enjoyed motorcycles & Madden video football games. Joined the US Marine Corps and served from 1999 until 2003 at Camp Lejeune, making Corporal.Later, Michael served as a reservist with Bulk Fuel Company C 6th Engineer Support Battalion, Phoenix. His grandfather and father also served in the US Marine Corps. In Jan 2005 he voluntered & deployed to Iraq. On April 1, 2005 he was promoted to Sgt. A Proud member of 3rd Battalion, 25th Regiment, 4th Marine Division he went to Iraq and was KIA by a suicide bomber in Hadithah, Iraq. A son. Proud Marine who gave his life in Operation Iraqi Freedom. Sadly Missed.
Burial:
Saint Michaels Cemetery
Greenville
Mercer County
Pennsylvania, USA
Sgt. Michael Adam Marzano, 28, of Phoenix, Ariz., formerly of Butler County and Sharon and Greenville in Mercer County, died Saturday when a bomb in a suicide vehicle exploded during combat in Hadithah, Iraq.
Born in Greenville, May 18, 1976, he was the son of Albert B. Marzano and Margy E. Kolegraf.
He had attended the Karns City School District and Reynolds High School and was a 1995 graduate of Sharon High School, where be competed in football and wrestling. Before his deployment to Iraq, he was attending Glendale Community College in Arizona.
He was a member of St. Michael Roman Catholic Church and the Italian Home Club, both in Greenville.
Sgt. Marzano was an avid boxer and held several Golden Glove Championship titles in Ohio and had an Ohio Regional Boxing Title. He enjoyed riding motorcycles and playing boxing and Madden Football video games.
From 1999 to 2003, he was a corporal in the Marine Corps and was stationed at Camp Lejeune, N.C. After his active duty, he was a reservist with the Bulk Fuel Co. C 6th Engineer Support Battalion, Phoenix. In January 2005, he volunteered and was deployed to Iraq; and on April 1, 2005, he was promoted to sergeant.
Surviving are his father of Greenville; his mother, Mrs. Mark (Margy) Bons of Desert Hills, Ariz.; a brother, Nicholas of Phoenix; his maternal grandfather, James Kolegraf of Sharon; his maternal grandmother, Martha Williams of Vandergrift; and a nephew and niece, Nick and Mariah. He is also survived by loving aunts, uncles and cousins.
He was preceded in death: by his paternal grandparents, Joseph and Ida Marzano; and a brother, Colen Van Kolegraf.
- See more at:
Obituary