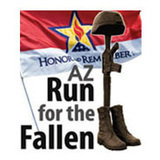 SGT. JIM SEVERSON
Hometown / City: Florence
Date of Death: July 16, 2012
US Army National Guard
HM1-034A
SGT Jim Severson, AZNG, July 20th, Tempe, AZ
Jim passed away on Monday, July 16 after 20 days in the hospital from complications of knee replacement surgery.
Jim is survived by his wife Lois, Son Jimmy, Daughters Debbie and Amy. Jim was active in the community and served as the Adult Sunday School Director for the Mosaic Church of the Nazarene in Florence, AZ.
Funeral services will be held at the Tempe Nazarene Church in Tempe, Arizona on Friday, July 20, 2012. The Arizona Patriot Guard Riders has been asked, and is honored to stand a Flag Line for Jim and the family. Jim served his God, his family and his country with honor.
Viewing: 9:00 AM, Tempe Nazarene Church, Tempe Arizona
Funeral Services: 10:00 AM
Staging: Friday, 7/20, 2012, 9:00 AM
Tempe Nazarene Church
3929 South Rural Road
Tempe, Arizona 85282