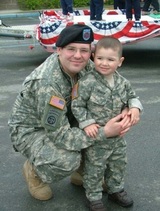 SGT. JAMES MICHAEL BEARUP
Hometown / City:
Date of Death: April 8, 2013
HM2-062A
We have sad news to report. It has been confirmed by his family that James Bearup has passed away.
As a combat veteran, James served his country honorably in the United States Army, stationed in Kandahar, Afghanistan. He rose to the rank of sergeant  earning numerous medals, awards, and commendations including three Army Commendation Medals, the Army Achievement Medal, and the Army Good Conduct Medal.
James was a third generation Arizonan. After his military service, he returned home and studied Business Administration at Arizona Christian University. He was a youth pastor at Phoenix Korean Presbyterian Church and volunteered with numerous charitable organizations.
In an effort to continue his commitment to public service,  James ran for the Arizona House of Representatives in District 15 last year. James took his pro-family, pro-2nd Amendment, and pro-education conservative campaign door-to-door, meeting with the district voters.
He and his wife Fawn, have a young family. In addition to Fawn, he leaves behind his son, James II, daughter Mya and his parents Tom and Adele Bearup. James was an impressive young man and will be missed by his eight siblings, extended family and wide circle of friends.
Our prayers are with them all.