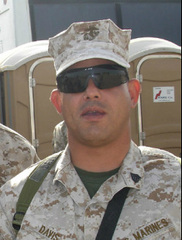 SGT EDWARD G. DAVIS - U.S. Marine Corps
Hometown / City: ANTIOCH, IL LAKE
Date of Death: Friday, April 28, 2006
Conflict: Operation Iraqi Freedom (Iraq)
Branch: U.S. Marine Corps
Rank: SGT
Unit: C CO, 3D AAV BN, (RCT-7, I MEF FWD), 1ST MAR DIV, CAMP PENDLETON, CA
Birth: Jun. 8, 1974
Waukegan
Lake County
Illinois, USA
Death: Apr. 28, 2006
Al Anbar, Iraq
Edward Davis III had been a Marine since September 1999, serving as a firearms range instructor and crew leader of an amphibious assault vehicle. Earlier this year, the Waukegan native told his father he volunteered for a tour of duty in Iraq."I talked to him about it, and I said, 'Why are you going over there?' He said to me, 'Dad, this is what I do. This is what I am. I'm a Marine,'" Edward Davis Jr. recalled Friday. "The last thing I said to him before he left was, 'Come home to us,' and he said, 'Don't worry, Dad, I will.'
"Early Friday, the Davis family received word that Sgt. Edward Davis III, 31, had been killed in action in Iraq late Thursday.According to his father, Sgt. Davis' wife was informed around 2 a.m. Friday that his Humvee was struck by a bomb while on patrol, possibly near the Euphrates River.The Defense Department could not confirm the news publicly late Friday, saying in a release only that "a Multinational Division Baghdad soldier was killed last night when his vehicle was struck by a roadside bomb north of Baghdad. The soldier's name is being withheld pending notification of family.
"Edward Davis Jr. said he received a call at work around 11 a.m. from a family member who told him "Little Eddie" was gone. He was the 3rd from school to die.
"They killed my son," Davis said, his eyes filling with tears.
Sgt. Davis, a 1993 graduate of Warren Township High School, leaves behind his wife, Preena, daughters Priscilla, 11, and Alicia, 4, and his 2-year-old son, Edward Davis IV. Along with his parents and a stepmother, he had two brothers and three sisters.Davis completed basic training at the Marine Corps Recruit Depot in San Diego after spending his post-high school years working as a truck driver and a steelworker, according to his father.
"He excelled at everything he did," his father said. "I just want the people of Lake County and Waukegan to know that Waukegan lost one of its very own. . . . He was born here, and Waukegan lost one of its own. "Davis is the first Lake County native to die in Iraq this year and the third from Warren High School to die since combat operations began more than three years ago. Davis is the second Waukegan native to die in Iraq. "This is all senseless, and the [insurgents] over there are cowards," Davis Jr. said. "I'm just devastated. It's just a surreal experience. ...
"Funeral services were pending Friday while the Davis family waited for more news from the military.
Burial:
Northshore Garden of Memories
North Chicago
Lake County
Illinois, USA
Created by: Breadlady45 from Chicago
Record added: Apr 29, 2006
Find A Grave Memorial# 14116596