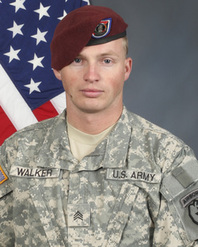 SGT. BRIAN L. WALKER - U.S. Army
Hometown: Lucerne Valley, CA.
Date of Death: May 13, 2012
Conflict: Operation Enduring Freedom
Branch: U.S. Army
Rank: Sergeant
Unit: 425th Brigade Special Troops Battalion, 4th Brigade Combat Team (Airborne), 25th Infantry Division, Joint Base Elmendorf-Richardson, Alaska.
SGT Brian L. Walker was born in 1987 in a small town in Lucerne Valley California. He went to college for two yrs after he graduated high school then joined the army as a MP. He was stationed at Fort Bragg and  that's where we met. He was in the 118th mp co and I was in the 65th mp co. He was deployed to Afghanistan the first time 09-10 after that deployment we got engaged and married 12/11/10. He loved the outdoors, fishing, hiking, camping, he loved it all. He was a very kind, helpful, kind hearted person and a very handy man. He loved his dog , a black lab named scooby doo. He loved all animals. We always wanted to go to Alaska so one day on his Ako it showed up and he clicked on it and we went to Alaska. We got to Alaska in Aug 2011 knowing we were going to deploy again. He loved serving his country and he loved what he did, and in Dec 2011 we deployed. On our deployment he did a lot of things. He went to the SGT Audie Murphy board and was accepted into the club that's one of the hardest things to do. He was so smart and determined, he achieved whatever  he set out to do, always! Even tho he didn't get to accept his Sgt Audie Murphy medal, I did and layed it on his casket.  Had he lived, his next step  was getting ready to put a packet in to fly helicopters because he loved them. Sorry I'm tryin to write so much about him, but its so hard, cause there's just so much, he was the best husband I could ask for, the love we had and share is more than many people get in a life time so I hope you now  know a Lil about him and if you want to know more just please feel free to ask, I love talking about him.
Ashley Walker