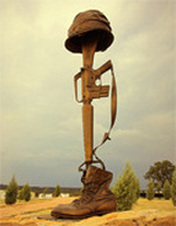 SGT. AARON A. PACK - U.S. Marine Corps
Hometown / City: Phoenix, AZ
Date of Death: Saturday, February 23, 1991
Conflict: Operation Desert Storm (Gulf War)
Branch: U.S. Marine Corps
Rank: Cpl.
Birth: Sep. 21, 1968
Death: Feb. 23, 1991
Cpl Aaron A. Pack, 22 of Phoenix. Died on February 23 in an artillery barrage. He was posthumously promoted to Sgt. He was due to be promoted before he was killed. He was killed when his fire-finder radar AN/TPQ-36 was hit by a HARM missile fired from an A-6.
Burial:
Arlington National Cemetery
Arlington
Arlington County
Virginia, USA
Plot: Memorial Section H