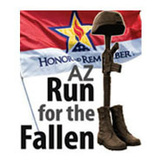 SFC. RAMONA RIVERA
Hometown / City: Mesa
Date of Death: January 23, 2013
US Army National Guard
HM3-127B
SFC Ramon Rivera from the 855th Military Police Company passed away this past Monday morning. His funeral is scheduled for this coming Friday, 27 January, 2012, directly followed by a procession to the National Cemetery
of Arizona. The Rivera family would like the PGR's services for two different missions this day.
First, the Rivera family would like a small escort of 2-4 motorcycles to assist in the escort SFC Rivera's remains from Angel's Crematorium in Mesa, AZ to the Joan of Arc Catholic Church in Phoenix, AZ.