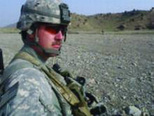 SFC. JAMES E. THODE
Hometown / City: Tucson
Date of Death: December 2, 2010
US Army National Guard
HM1-041A
Sergeant First Class James E. Thode, 118th Engineer (Sapper) Company, 1457th Engineer Battalion, 204th Maneuver Enhancement Brigade, (Salt Lake City)
Utah National Guard, died Dec. 2 in Sabari District, Khowst Province, Afghanistan, of wounds suffered when insurgents attacked his unit using an improvised explosive device.
A resident of Kirtland, N.M., Thode deployed to Afghanistan in July 2010 with the 118th. The unit's mission is to provide route-clearance support to Coalition forces in Afghanistan.
Thode, 45, enlisted in the military in 1984 and joined the Utah National Guard as a 12B combat engineer in 2002. He deployed to Iraq as a member of the Utah Guard's 1457th Engineer Battalion in 2003-2004 in support of Operation Iraqi Freedom.
"We're deeply saddened by the death of Sgt. 1st Class James Thode in Afghanistan," said Maj. Gen. Brian Tarbet, the Adjutant General of the Utah National Guard. "It's a terrible loss for his family, the Soldiers of the 118th Sapper Company and the Utah National Guard."
"Our condolences go out to Mrs. Thode, her two children, and to Sgt. Thode's parents," Tarbet continued. "Sergeant 1st Class Thode deployed once before to Iraq and served with distinction. He was killed this week while leading his Soldiers in combat, doing what great NCOs of our military have done for generations. We'll be privileged to participate to the full extent the family requests in rendering military honors at the funeral in New Mexico. The citizens of Utah should know that one of their finest has fallen."
Utah Governor Gary Herbert also extended his condolences to Thode's family.
"Jeanette and I wish to express our most heartfelt sympathies to the family of Sgt. 1st Class James Thode," said Herbert. "He gave the ultimate sacrifice in the fight for freedom. We pray that his loved ones and friends will be comforted at this difficult time and especially during the holiday season. As commander in chief of the Utah National Guard, I join with all Utahns in extending my personal appreciation for the sacrifices of this selfless Soldier and his fellow troops in Afghanistan." Thode is the sixth Utah National Guard Soldier that has died since 9/11 while serving in support of Operations Enduring Freedom and Iraqi Freedom. Others who have paid the ultimate price are as follows:
* Specialist Ryan Stark, a member of the 1-145th Field Artillery, died May 27, 2003, in a military-vehicle accident at Tooele Army Depot.
* Staff Sgt. Alan Rogers, a member of the 1-211th Aviation, died Sept. 29, 2004, in Afghanistan.
* Sergeant Brandon Thomas, 19th Special Forces Group (Airborne), died May 7, 2005, in Iraq while working as a civilian contractor.
* Sergeant 1st Class Ronald T. Wood, a member of the 1-148th Field Artillery, died July 16, 2005, when the humvee in which he was riding was struck by a roadside bomb.
* Second Lt. Scott B. Lundell, a member of I Corps Artillery (Forward), died Nov. 25, 2006, in Afghanistan when his dismounted patrol was engaged by enemy forces.
A memorial fund has been set up for Sgt. 1st Class Thode's family. Those who wish to donate may do so at
Thode's death saddened the community as news of the event was released Thursday.
"I can't even put into words how much he'll be missed," acting Police Chief Kyle Westall said in a phone interview Thursday.
A 14-year veteran of the police department, Thode was respected and beloved by his fellow officers, Westall said.
He joined the department in 1996, working as a patrol officer, field training officer and member of the SWAT team, Farmington Lt. Daryl Noon said.
Thode left the department in 2003 after he was deployed to Iraq but returned the following year where he was assigned to the detective's division.
Thode's death comes days before President Barack Obama's surprise trip Friday to visit Bagram Air Force Base in Afghanistan where he expressed the nation's gratitude for the troops and paid homage to fallen soldiers.
"We know their memories will never be forgotten," Obama said to the troops. "Their life has added to the life of our nation."
His unit's mission was to provide route-clearance support to coalition forces in Afghanistan, the Utah National Guard said. No one else was killed in Thursday's attack, and no other soldiers sustained serious injuries.
SFC Thode grew up in Tucson.   Born in Show Low, Thode came to Tucson at the age of 6. He graduated from Catalina Magnet High School and then the University of Arizona, said his father, Ernest Thode of Tucson.
Jim Thode moved away from Tucson 15 years ago and called Kirtland, N.M., his home with wife Carlotta, their 18-year-old daughter Ashley and 8-year-old son Tommy.
The last time he was in Tucson was just before his deployment for a visit with his father, sister and some high school friends.
The deployment was the third for Thode, who in 1991 served in Desert Storm but did not see combat. In 2003, he served in support of Operation Iraqi Freedom.
"He was a big, quiet man at 6-2, and 240 pounds, but he was a warrior," Ernest Thode said of his son. "He felt it was his job to straighten out the problems of the world."
That attitude is what led to Thode also serving on New Mexico's Farmington Police Department for the last 14 years. In that time he worked as a training officer, a member of the SWAT team and most recently as a sergeant.
"He was just one of those guys," Farmington Police Lt. Daryl Noon said. "He was well-respected. He was a great friend. He was a great leader. He had all those qualities that you would look for in someone."
Thode was nearly halfway through his deployment when he died. He was scheduled to go home for leave in February, his father said.
Ernest Thode learned of his son's death on Thursday. He was returning to his home when he saw two big men waiting out front.
Initially he thought his son had returned early for leave.
"I thought it was Jim," Ernest Thode said. "But then I saw the dress blues, and Jim doesn't wear those. It was a chaplain, and I knew then before he could even say a word."
On Saturday, Ernest Thode recalled his son's passion for the military from an early age. He was inspired by his uncle who served in the military and was a marksman.
"As a kid, Jim learned to shoot a BB gun accurately," his father said. "He shot that until we finally took him to the range, and then he learned how to handle a rifle."
Jim Thode joined the military in 1984 and had already racked up enough service time to retire by the time he went on his third, and final, deployment, his father said.
"I told him he could've retired, but he insisted that these young kids needed someone to take them to war and help keep things together," Ernest Thode said. "He never wanted to take a lot of credit for what he did."
SFC Thode likely would have preferred to be remembered as a family man who loved the outdoors, rather than a hero, his father said.
Thode is survived by his wife Carlotta, their 2 children and his sister Mary Ann.  He was the son of Earnest Thode and Eve (Myers) Taylor.
Funeral arrangements are pending with Brewer, Lee & Larkin Funeral Home, 103 E. Ute St. in Farmington, (505) 325-8688
Funeral services will be held in Farmington in the next week or two, Ernest Thode said.
SFC Jim E. Thode (Sept. 27, 1965- Dec. 2, 2010)
Thank you SFC James E. Thode for your long and distinguished service to the Land that we Love.  Thank you for your bravery, patriotism and commitment to our nation.  You have given all for the cause of Freedom to ensure that your fellow countrymen live in security and peace on our own soil.  You could have easily retired and did not have to go on this deployment, but you lead by example and lived what you believed with great courage and grace.  You will not be forgotten, for the memory of your tenacious spirit will live on in each patriot.  We will keep your loved ones in our prayers as they transition to a life without you.
Sincerely,
Pat