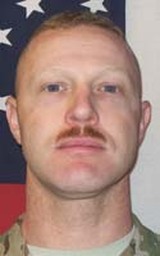 SFC. BARETT W. MCNABB - U.S. Army
Hometown / City: Chino Valley, AR
Date of Death: Tuesday, June 12, 2012
Conflict: Operation Enduring Freedom (Afghanistan)
Branch: U.S. Army
Rank: SFC
Unit: 562nd Engineer Company, 2nd Stryker Brigade Combat Team, 2nd Infantry Division
Post / Base: Joint Base Lewis-McChord, Wash.
Birth: Dec. 23, 1978
Death: Jun. 12, 2012
Kandahar, Afghanistan
Sgt. 1st Class Barett W. McNabb, 33, of Chino Valley was killed Tuesday while serving his country in support of Operation Enduring Freedom, according to the office of Gov. Jan Brewer. McNabb was in the Kandahar province of Afghanistan when an improvised explosive device detonated near his dismounted patrol. He was assigned to the 562nd Engineer Company, 2nd Infantry Division, based at Joint Base Lewis-McChord, in Washington.
Brewer asked all Arizonans to honor McNabb's memory today, on Flag Day.
"In honor of Sgt. 1st Class Barett W. McNabb, I have ordered that all state flags be flown at half-staff from sunrise to sunset on Thursday, June 14, 2012, as well as on the day of interment, for which services are pending," Brewer said through a news release. "May we never forget his service."
~~~~
Barett was cremated and his cremains were given to his parents at his memorial service in Salida, CO. Services were held for him at Fort Lewis, WA (where his wife and children are) and Salida, CO, (where his parents are).