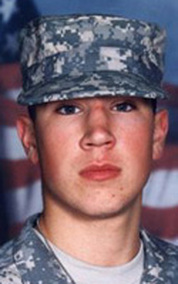 PVT. REECE D. MORENO - U.S. Army
Hometown / City: PRESCOTT, AZ YAVAPAI
Date of Death: Friday, November 24, 2006
Conflict: Operation Iraqi Freedom (Iraq)
Branch: U.S. Army
Rank: Pvt.
Unit: HHC, 92ND EMGINEER BATTALION, 411TH ENGINEER BRIGADE, FORT STEWART, GA
Birth: Nov. 7, 1987
Los Angeles County
California, USA
Death: Nov. 24, 2006, Iraq
Pvt. Reece D. Moreno of Prescott, Ariz., was a student at Bradshaw Mountain High School in Prescott Valley and graduated from Yavapai County High School where he was a hard worker with a good attitude. His class graduated in May and he joined the Army in June. He was a member of the United Methodist Church in Prescott. He enjoyed body building and playing in the band and also loved to laugh and by doing so made others laugh was well. He leaves behind his parents, two sisters, two stepsisters, two brothers and many nieces and nephews. He was 19.
Army
92 Engineer Battalion,
3rd Sustainment Brigade,
3rd Infantry Division,
Fort Stewart, Ga.
Burial:
Mountain View Cemetery
Prescott
Yavapai County
Arizona, USA