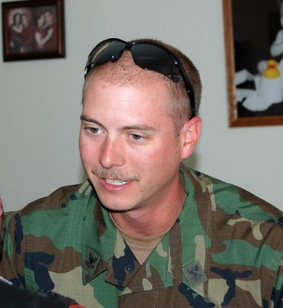 PETTY OFFICER 2nd CLASS JUSTIN J. MCNELEY - U.S. Navy
Hometown / City: Wheatridge, CO
Date of Death: Friday, July 26, 2010
Conflict: Operation Enduring Freedom (Afghanistan)
Branch: U.S. Navy
Rank: Petty Officer 2nd Class
Birth: 1980
Wheat Ridge
Jefferson County
Colorado, USA
Death: Jul. 23, 2010
Lowgar, Afghanistan
Petty Officer 2nd Class Justin McNeley, 30, of Wheatridge, Colo., died from wounds sustained from the July 23 incident. Coalition Forces recovered his body July 25 after an extensive search. He was assigned to Assault Craft Unit One (ACU-1), San Diego.
Colorado state Rep. Jim Kerr says the sailor killed in Afghanistan is his nephew.
The Littleton lawmaker told The Denver Post that 30-year-old Petty Officer 2nd Class Justin McNeley was expected to return to the U.S. in August. Kerr says McNeley was his wife's nephew and that his family found out about his death Monday.
McNeley was one of two U.S. soldiers missing in Afghanistan since last week. A NATO spokesman confirmed that McNeley had been killed and his body was recovered.
McNeley and another sailor went missing Friday in the eastern province of Logar, after an armored sport utility vehicle was seen driving into a Taliban-held area. The search continues for the other sailor.
Burial:
Mount Olivet Cemetery
Wheat Ridge
Jefferson County
Colorado, USA
Created by: Brenda N
Record added: Jul 27, 2010
Find A Grave Memorial# 55511326