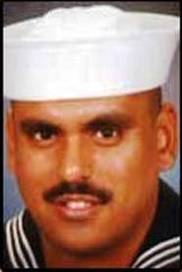 PO1 JOSE LOUIS GONZALES - U.S. Navy
Hometown: Glendale, AZ
Date of Death: November 1, 2004.
Branch: U.S. Navy
Rank: Petty Officer 1st Class
Unit: USS Kitty Hawk
Birth: Feb. 28, 1969
Death: Nov. 1, 2004
Jose Luis Gonzales, 35, of Glendale died Nov. 2, 2004, while serving on the USS Kitty Hawk in Japan.
Mr. Gonzales was born Feb. 28, 1969, in Glendale. He graduated from Buckeye High School in 1987, and at the age of 20 he joined the Navy.
Mr. Gonzales worked in aviation technology for 15 years. Attaining the rank of Aviation Electronics Technician First Class, he was honored with many awards and medals throughout his naval career.
Mr. Gonzales is survived by one daughter, Larissa Juarez; one son, Jose Luis Gonzales, Jr.; and his parents, Yvonne and Pedro Gonzales; and one sister, Alma Sanchez.