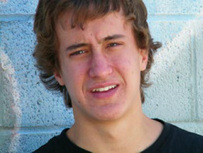 PFC. CAMERON CARL RICHARD STRATTON
Hometown / City: Prescott
Date of Death: December 6, 2010
US Army
HM3-133B
Cameron Carl-Richard Stratton Manchester, age 20, passed away on Dec. 6, 2010, at Fort Wainwright, Alaska. He was born on June 18, 1990, in Lancaster, Calif.
Cameron attended Prescott High School and then joined the United States Army. He was in the 176th Signal Company Brigade Troops Battalion 1st Stryker Brigade Combat Team 25th Infantry Division as Private First Class.
He played soccer, basketball and hockey as a child. He was very musical, played guitar and he was a great dancer. Cameron loved his computer games, especially World of Warcraft, did woodworking in school and was a very talented artist, especially drawing. All through his life, he had a tenderness and love for all animals. Cameron was a tender-hearted, caring man, full of love, life and laughter. He has touched many lives with his honest innocence, genuine sincerity and endless sense of humor. The loss of this soldier will be deeply grieved by every life he touched.
Cameron is survived by his parents, Stephanie Hughes and Clint Manchester; his sister, Candice; and brother Jacob.
Services for Cameron will be at 10 a.m. on Thursday, Dec. 16, 2010, at the Prescott Heights Church, 2121 E. Larry Caldwell Drive, Prescott, Ariz. Donations in Cameron's name may be made to the Yavapai Food Bank, 8866 E. Long Mesa Drive, Prescott Valley, AZ 86314.