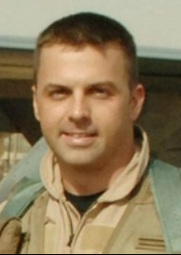 MAJ. TROY L. GILBERT
Hometown / City: STEPHENS, TX
Date of Death: Friday, December 1, 2006
Conflict: Operation Iraqi Freedom (Iraq)
Branch: U.S. Air Force
Unit: 309TH FIGHTER SQUADRON, LUKE AFB, AZ
Birth: Feb. 19, 1972
Bossier City
Bossier Parish
Louisiana, USA
Death: Nov. 27, 2006, Iraq
CANNON AIR FORCE BASE, N.M. (AP) - The missing pilot of an F-16 from Cannon Air Force Base that crashed in Iraq earlier this week has been identified as Maj. Troy Gilbert, a 1993 Texas Tech graduate who was assigned to the 309th Fighter Squadron at Luke Air Force Base in Phoenix.
The military classified Gilbert, 34, as "whereabouts unknown" Wednesday.
Lt. Gen. Gary North, commander of the U.S. Central Command Air Forces, said Wednesday that a priority would be identifying the human remains found at the crash site.
Gilbert graduated from Tech with a bachelor's degree in economics, according to Luke AFB officials.
U.S. forces investigating the crash have said insurgents reached the site before American forces. Videotape pictures obtained by Associated Press Television News appear to show the wreckage of the F-16CG jet in the farm field where it crashed Monday and the remains of a U.S. serviceman with a tangled parachute nearby.
The jet crashed about 20 miles northwest of Baghdad while supporting ground combat by coalition forces in Anbar province, where many of Iraq's insurgent groups operate, the Air Combat Command said.
DNA samples were taken from the scene and would be tested at a military medical facility in the United States, the central command said.
Cannon had said earlier that the pilot was not from the eastern New Mexico base.
The 524th Fighter Squadron, part of the 27th Fighter Wing from Cannon, has been operating from Balad Air Base in Iraq since being deployed in September. Gilbert was deployed to the 332nd Expeditionary Wing at Balad Air Base.
Cannon officials confirmed markings from the base were apparent on news photos and television images that showed sections of the single-pilot aircraft.
An Iraqi witness reported seeing the jet flying erratically before it crashed. A U.S. military spokesman in Iraq said he doubted the plane was shot down because F-16s fly very fast and have not encountered weapons in Iraq capable of taking them down.
The cause of the crash is under investigation.
Air Force spokeswoman Susan Stout said the Air Force has been in contact with family members in the Phoenix area. A man who answered the phone Wednesday at a number listed under Gilbert's name said the family has no comment and referred members of the media to the Air Force's public affairs office.
Gilbert's family later released a statement through the Air Force, although details about his immediate family were unavailable.
"Troy was first and foremost a wonderful husband and father. His Christian faith, personal values and work ethic guided his personal life and his career as a military officer," the statement said. "He was highly respected by and deeply loved by so many. At the time of the tragedy during combat operations, he was unselfishly protecting the lives of other American military members. We, his family, cherish the worldwide prayers and support during this extremely difficult time."
(Avalanche-Journal staff contributed to this report.)
Burial:
Arlington National Cemetery
Arlington
Arlington County
Virginia, USA
Plot: SECTION 60 SITE 8520