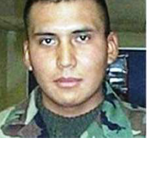 LCpl STANLEY BOWSLEY
Hometown / City: N/A
Date of Death: N/A
USMC
HM2-090A
Federal and local authorities say skeletal remains found in Hampstead late last week belong to a Camp Lejeune Marine who vanished nearly five years ago.
Cpl. Stanley Bosley, a native Navaho, left base in his car in February 2004. The car was found a few days later, abandoned with no signs of foul play on Amanda Lane, a rural road off U.S. 17 in Pender County.
Investigators originally thought his body may have also been in the area, but a group of local hunters who were trying to help ruined any chance of finding him back then, said John Michael Moore, a civilian investigator with the Onslow County Sheriff's Department.
"Some do-gooders brought the wrong kind of dogs and nixed any K9 units from finding him," he said, explaining that once Bosley's scent was mixed with everyone else's, tracking him became all but impossible.
Agents with the Naval Criminal Investigative Services expanded the search for Bosley.
"This was an extensive investigation (that) included going to tribal lands," said John Heinselman, NCIS special agent-in-charge of the Camp Lejeune field office.
The Navaho Nation stretches for 26,000 square miles in three Southwest states.
Moore said that early speculation in the case was that Bosley, "who was having trouble with his girlfriend and facing a deployment," simply took an unauthorized leave and never returned.
But Moore never believed that and insisted the case not be closed by the department, Sheriff Ed Brown said.
"I met (Bosley's) family and felt he hadn't just run off," Moore said, adding that everyone he spoke to thought it was out of character for Bosley to vanish without telling anyone.
But perhaps he did. Investigators said a depressed Bosley left a message for his girlfriend saying he was drinking cough medicine and alcohol. That was the last anyone heard from him.
Moore said he always felt like Bosley's body was in the woods near his car, but repeated searches by NCIS and the Pender County Sheriff's Department came up empty.
A Navaho shaman traveled to the area in November 2004 and performed a ceremony at the site where Bosley's car was found. The shaman told Moore that Bosley's spirit was nearby.
The case came full circle when hunting season opened.
Well-meaning hunters disturbed the area nearly five years ago, and hunters stumbled upon a skeleton last week. The remains were found in a heavily wooded area about 200 yards from where Bosley's car was discovered, authorities said.
"We believe we have recovered all the remains," Moore said.
Heinselman said NCIS was confident the remains belong to Bosley but was waiting for confirmation through DNA and dental records.
It was not clear whether authorities believe Bosley took his own life or died from the elements, but they did say they do not suspect anyone else was involved.