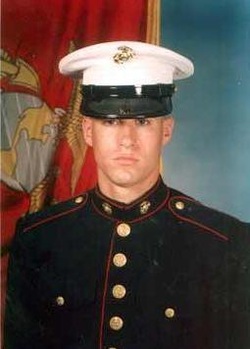 LCpl. MARTY G. MORTENSON - U.S. Marine Corps
Hometown / City: FLAGSTAFF, AZ COCONINO
Date of Death: Wednesday, April 20, 2005
Conflict: Operation Iraqi Freedom (Iraq)
Branch: U.S. Marine Corps
Rank: LCpl.
Unit: A CO, 1ST BN, 5TH MAR, (2-BCT, 2D MAR DIV), 1ST MAR DIV, CAMP PENDLETON, CA
Birth: Mar. 16, 1983
Flagstaff
Coconino County
Arizona, USA
Death: Apr. 20, 2005
Baghdad, Iraq
Marty was 22 years old and was on his 3rd tour over in Iraq. Marty was a Born Again Christian and he spread the Gospel of Jesus Christ to the other Marines while in Iraq. Marty joined the Marines in May 2002, to serve his country with honor and dignity. He served with the 5th Marines, 1st Battalion, Alpha Company as a saw gunner; scout swimmer and field medic and team leader. He was awarded the Naval commendation for Valor during his second tour in Iraq. While out on a convoy an explosive device, went off and wounded Marty on the back of the head. They had no warning as it was set off by a cell phone from a distance.
He enjoyed camping and hunting with his father and his best friend Nate Ockrassa. He humored his mother as her hiking companion. He made peace between his sisters in childhood spats. He loved his nephews who claimed him as one of their favorite baby sitters. He also enjoyed surfing and snow boarding.
Marty you are TRULY a HERO to this Country and you will NEVER be forgotten!
If you would like to help the men and women over in Iraq right now please visit this website; they need all the help they can get. Thank you!
www.anysoldier.com/WhereToSend/
Burial:
Citizens Cemetery
Flagstaff
Coconino County
Arizona, USA