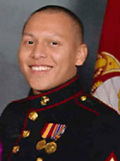 LCpl MARTIN LOPEZ, JR.
Hometown / City: Phoenix
Date of Death: April 23, 2012
USMC
HM2-111A
20 of Phoenix, passed away on April 23, 2012. He enlisted in the United States Marine in May 2009, he was stationed in San Diego, California. He was a loving husband, father and son. He leaves to cherish his memory his loving wife, Vianca Lopez, son Roman Lopez, mother Yolanda Sanchez, two brothers; Eric Sanchez and Jonathan Sanchez Visitation will be Sunday, April 29, 2012 from 2:00-6:00 pm with a Scripture service at 4:00 pm at Universal Memorial Center, 1100 E. Jefferson St., Phoenix, Arizona. Interment will be private. Services entrusted to Universal Memorial Center.
- See more at:
Obituary