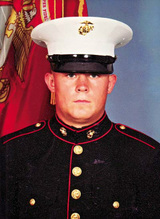 LCpl JAMES DAVID WARFIELD
Hometown / City: Glendale
Date of Death: March 25, 2011
USMC
HM2-085A
"JD". 12/8/1988 to 3/25/2011, passed away peacefully in his sleep at his home in Glendale, AZ. JD was an avid sportsman in and around Flagstaff, AZ.
He bagged his first elk when he was just 13 years old with a shot of over 400 yards. He played and excelled at ice hockey from age 5 until end of high school in Flagstaff. If you played with or against him you would not forget his passion and determined never quit attitude.
He enlisted in the US Marine Corp directly from high school, was promoted to E‑2 for his leadership and hard work in boot camp.
He served his country with a tour in Iraq 2009. JD's last year of life was spent trying to overcome injuries, which paralyzed him physically but never took away his spirit.
He is survived by his mother, Susie Warfield, Peoria, AZ, father, Ron and Sherry Warfield, Flagstaff, AZ, sisters, Codi Warfield who cared for him in their home, Glendale, AZ, Brittney and Samantha, Flagstaff, AZ. grandparents, Charlotte and Merle Warfield, Lake Montezuma, AZ. Also survived and supported by numerous loving aunts, uncles, nieces, nephews and close friends.
Private services will be held in Phoenix at the convenience of the family and a Celebration of JD's Life to be held April 9th beginning at noon at his grandparents' home, 3660 Montezuma Ave, Lake Montezuma, AZ.
In lieu of flowers donations can be made to The Wounded Warriors Foundation or The Paralyzed Veterans of America.