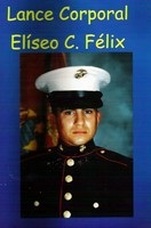 LCpl ELISEO C. FELIX - U.S. Marine Corps
Hometown / City: Avondale, AZ
Date of Death: Saturday, February 2, 1991
Conflict: Operation Desert Storm (Gulf War)
Branch: U.S. Marine Corps
Rank: LCpl.
2/1/2011
Remembering Eliseo Felix Jr.
Having a street or public building named after you is an honor. But, it's an honor that often comes with a heavy price.Twenty years ago, a young man from Avondale paid the ultimate price, and today both a street and an elementary school bear his name.
Marine Lance Cpl. Eliseo Felix Jr., a 1989 graduate of Agua Fria High School, was only 19 years old when he was among the first Americans to die in the first Persian Gulf war. He was killed on Feb. 2, 1991, when a U.S. convoy was hit by a cluster bomb behind allied lines in Saudi Arabia. An investigation determined the bomb had been dropped accidentally by an allied warplane. Days after the incident, a military spokesman describe the cluster bomb that killed Felix and wounded two others as "far enough removed from the front lines that one would make the conclusion it was ... friendly fire."
One of the sad truths of warfare is that most of the combatants who are killed are too old to be called boys and too young to be called men. For many, military service serves as a rite of passage from boyhood to manhood. Such was the case with Eliseo Felix.
He had planned to get married that summer. The youth's letters to his fiancee spoke of their future together. He wrote of wanting to move to California and find a nice little two-bedroom apartment. The second bedroom would house his weight-lifting equipment.
Despite their plans for a rosy future together, Felix evidently wondered if he might not return.
"In one of his letters ... the war had not started yet, but they had been told of the date," his fiancee, Monica Mascarenas, told a View reporter just days after she had received notice of his death. "He wrote, 'Monica, in the event of my death, I'll always love you.'"
News of the tragedy sent shock waves through the local community. More than 600 people flocked to a memorial service on Feb. 4, 1991, at St. John Vianney Catholic Church in Goodyear to offer support for the grieving families.
Many streets and public buildings bear the names of people we don't know, but when those names honor a person who gave his life for his country, it's only fitting that from time to time we recall the reason there's an Eliseo Felix Jr. Way in Avondale and an Eliseo C. Felix Elementary School in Goodyear.