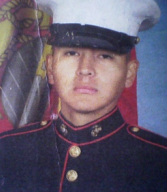 LCpl DANIEL DON CURTIS
Hometown / City: Fort McDowell
Date of Death: June 13, 2011
USMC
A young man walking along Highland Avenue just before 5 a.m. this morning was fatally hit by a taxi cab heading toward Hollywood Boulevard. The L.A. County Coroner's Office confirms his identity this afternoon as 27-year-old Daniel Don Curtis of North Hollywood. KNX news radio reported this morning that Curtis died where he was hit, his body laying halfway onto the sidewalk.
The cab driver who ran into the 27-year-old did not leave the scene of the accident...
... and cooperated with police interrogation. LAPD officers continued their investigation for about three hours -- well into the morning rush.
"We have one or two witnesses who are saying that they saw this guy dancing in the middle of the street prior to being hit," LAPD Detective Nelson Hernandez told the Beverly Press. "It may take some time to determine if alcohol or drugs were a factor."