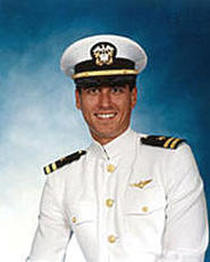 LT ROBERT F. SMITH - US Navy/Customs & Border Protection
Date of Death: May 22, 2007
Birth: May 24, 1960
Harrisburg
Dauphin County
Pennsylvania, USA
Death: May 22, 2007
Texas, USA
Air Interdiction Agent Robert F. Smith of U.S. Customs and Border Protection was born in Harrisburg, Pa. to Robert Smith and Gabriella Greens. He graduated from Central Dauphin East High School, on May 1978, where he was captain of the cross0sountry, basketball and track teams. He entered Penn State University at State College, Pa. in the autumn of 1978, graduating in November, 1982, with a Bachelor's Degree in Economics. He entered the U.S. Navy in the spring of 1983 as part of the Naval Aviation Officer's Officer's Candidate Program in Pensacola, FL. He earned his wings of gold as a Naval Aviator in the summer of 1984. He was stationed in Roosevelt Roads, Puerto Rico, where he flew H-3 Helicopters; and Naval Air Station Pensacola, FL; and was a flight instructor flying the T-34, Robert was honorably discharged from the Navy in 1990 at the rank of Lieutenant(O-3).
Robert was hiered by the U.S. Customs Service as a pilot in 1991 and started at the New York Air Unit in Islip, NY. After attending a 16 week course at the Federal Law Enforcement Training Center in Glynco, GA, he was transferred to the Caribbean Aviation Operations Branch in Aguadilla, Puerto Rico, in 1992. He served there in the forefront of the nation's war against drugs, flying the UH60, Blackhawk helicopter and the CD-22 Nomad senson aircraft. He was directly responsible for the interdiction of several tons of cocaine and marijuana coming from Columbia. He was transferred to the El Paso Aviation Unit in the summer of 1996. While in El Paso, Robert acted as a Pilot in Command of the c550 Citation, the UH60 Blackhawk and the AS350 AStar helicopter on a variety of law enforcement and national security missions.
During the last couple of years, Robert was involved in air space security missions in Washington, DC, international drug interdiction missions based in the Caribbean, and rescue/relief efforts in New Orleans after Hurricane Katrina.
In addition to his professional career, Robert was very active in his Christian faith since his conversion in 1979, speaking at Full Gospel Business Men's Fellowship meetings and bible study groups acorss the country. He was a member of Peace Lutheran Church in El Paso.
One of his favorite hobbies was running with the local chapter of the Hash House Harriers, an international running and drinking club.
Robert is survived by his wife, Bridget Smith and his step child Clair Tinguely and Robert Chacon; his parents, Robert and Kathy Smith of Phoenix AZ;his mother Gabrielle Greene of El Paso; his sisters, Lisa Smith, Lydia Smith of West Palm Beach, FL; and brother, Sean Harvey of Oxford, Pa.
The funeral service was held at Western Hill Methodist Church, with internment at the Fort Bliss National Cemetery, with full military honors.
**
U.S. Customs news release reported that Agent Robert F. Smith died of unjuries sustained in a helicopter crash that occured on the death date of this memorial.
Burial:
Fort Bliss National Cemetery
El Paso
El Paso County
Texas, USA