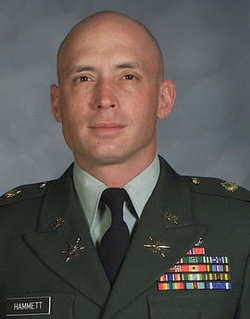 CWO3 ROBERT C. HAMMETT
Hometown / City: TUCSON, AZ PIMA
Date of Death: Tuesday, June 24, 2008
Conflict: Operation Iraqi Freedom (Iraq)
Branch: U.S. Army
Unit: 3rd Brigade Combat Team, 4th Infantry Division, Fort Carson, Colo.
Birth: Mar. 2, 1969
Florida, USA
Death: Jun. 24, 2008, Iraq
Chief Warrant Officer Robert C. Hammett of Tucson, Arizona entered the Army in March 1990 following in his fathers footsteps. The career soldier was on his third deployment to the Middle East. He planned to retire from the Army in two years, with 20 years of service. His awards and decorations include, a Bronze Star Medal, Meritorious Service Medal and Army Commendation Medal for his service with five Oak Leaf Clusters. Robert was on his third Middle East deployment when he was killed in action. Since 2002, he had spent a total of 29 months, nearly 2 1/2 years, overseas. He died June 24 in Baghdad, Iraq, of wounds suffered from a bomb blast at age 39. Robert leaves behind a wife and five daughters, the youngest was born in March 2007. The oldest child is 16.
Army
3rd Brigade Combat Team
4th Infantry Division
Fort Carson, Colorado
Burial:
Evergreen Memorial Park
Tucson
Pima County
Arizona, USA