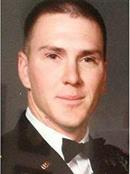 CAPTAIN JOHN - CHARLES RYAN BRANNON
Hometown / City: Mesa
Date of Death: March 22, 2016
US Army
HM-2-110
CPT John-Charles Ryan Brannon born May 4, 1989 in Thousand Oaks, California, passed away March 22, 2016.  Known to his friends and family as "Ryan" he and his family moved to Arizona in 1999.  Ryan enjoyed living in Arizona.  Ryan was an excellent marksman and won numerous awards for his marksmanship through the Jr. NRA.  Ryan served in the JROTC up until graduating from high school.  Ryan graduated from Red Mountain High School in 2007.  He received Senator Kyle's nomination to attend United States Military Academy at WestPoint and graduated from West Point at the top of his class in 2011 with a Bachelor of Science in Economics. While attending West Point Ryan was awarded the Air Assault Badge and the Parachutist Badge. Ryan spent a summer studying the French language and traveling around France. Ryan later continued his education by earning Masters of Science Degree in Engineering Management from the Missouri University School of Science and Technology in 2015.
Ryan was deployed in 2012 to Afghanistan as an Engineer Platoon Leader with the 573D Engineer Clearance Company at White Sands Missile Range in New Mexico.  He returned home in 2013.  Among the numerous awards and decorations Ryan received were the Bronze Star Medal, the Army Commendation Medal and the Army Achievement Medal, Meritorious Unit Commendation.  Ryan's military education includes Engineer Officer Basic Course and Engineer Officer Advanced Course. Ryan finished both these course at the top his class.  Ryan earned the rank of Captain in 2015.
At the time of his death Ryan was Engineer Operations Officer G3 Engineers, 1 corps, Joint Base Lewis-McCord, Washington.
Ryan was brilliant, bold, courageous, and had a wonderful sense of humor.  His eyes were light with promise for the future.  He had a heart full of love for his family, friends and for life itself.  Ryan was a young man who lived life his way on his terms.  Ryan is loved deeply and missed by all of those who were lucky enough to have known him.
CPT Brannon is survived by his wife Josey and her family, mother Cheryl McAllister and Steve of Gilbert, AZ; father, Michael Brannon and Virginia of Palmdale, CA; sister Ashley of Mesa, AZ; brothers, Matthew of Gilbert, AZ; Andrew and Nicholas of CA; Grandparents Gary and Jeannie Poole, Lancaster, CA; Uncle, Bryan Pospisil of Mesa AZ; many more family members and friends.