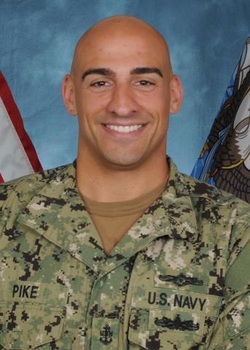 CPO. CHRISTIAN M. PIKE - U.S. Navy
Hometown / City: Peoria, AZ
Date of Death: Wednesday, March 13, 2013
Conflict: Operation Enduring Freedom (Afghanistan)
Branch: U.S. Navy
Rank: Chief Petty Officer
Unit: West Coast-based Naval Special Warfare unit
Post / Base: Naval Special Warfare Command
Birth: Nov. 19, 1981
Death: Mar. 13, 2013
Cryptologic Technician Technical Chief (CTTC) Christian M. Pike was born in Berlin Germany, in 1981, as a dependent of an Army mother, Diana Pike.  Throughout his early years he travelled as an Army dependent and eventually moved to Peoria, Arizona and attended Peoria High School.   Christian pursued a variety of hobbies to include auto and motorcycle racing.
Christian joined the Navy early in 2001.  He went to basic training in Great Lakes and then to the Naval Technical Training Center at Corry Station, Pensacola Florida as a Cryptologic Technician Technical (CTT).  He served aboard the U.S.S. Cleveland (LPD-7) and then in 2007 went to the Navy Information Operations Command in San Diego. Chief Pike supported Navy cryptologic operations in the Pacific and was deployed to Iraq with Marine combat operations.  After Iraq, he served with Naval Special Warfare Support Activity One in San Diego and was deployed to Afghanistan with Seal Team 5, in support of Enduring Freedom.
On March 10, 2013, Chief Pike and his four-person unit found themselves in a fierce battle with a large number of insurgents.  The group was badly outnumbered and Christian was seriously wounded and died from his wounds three days later.  He was posthumously awarded the Bronze Star with Valor.  He is buried in Arlington national Cemetery.
Chief Pike is remembered for his compassionate leadership skills, his courage, his extreme weight training regime, and his irreverent sense of humor.  He led the honorable life he chose; he loved his family, the Navy, his job, and his teammates.