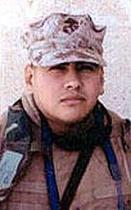 CPL. WILLIAM I. SALAZAR - U.S. Marine Corps
Hometown / City: PICO RIVERA, CA LOS ANGELES
Date of Death: Friday, October 15, 2004
Conflict: Operation Iraqi Freedom (Iraq)
Branch: U.S. Marine Corps
Rank: Cpl.
Unit: H&S CO, HQ BN, 1ST MAR DIV, CAMP PENDLETON, CA
Birth: Feb. 15, 1978
California, USA
Death: Oct. 15, 2004
Al Anbar, Iraq
Cpl. William Isaac Salazar, 26, of Lynwood, CA, died from wounds received as result of enemy action. Salazar was assigned to Headquarters Battalion, 1st Marine Division, I Marine Expeditionary Force, Camp Pendleton, CA.
William is survived by his father of Gus Salazar and step-mother, Jennifer of Las Vegas and mother, Gloria Salazar of Bullhead City, Arizona. He is also survived by an older brother, Sammy Acosta of Honolulu, HI; and uncle Lou Salazar and his wife, Cecila of Las Vegas.
Sadly, William passed away on his father's birthday. As though he knew, he sent his father an e-mail less than two days before to wish him a happy birthday.
Burial:
Resurrection Cemetery
Montebello
Los Angeles County
California, USA
Created by: Serenity
Record added: Oct 22, 2004
Find A Grave Memorial# 9689200