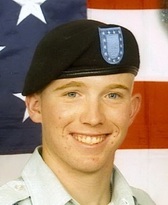 CPL. STEPHEN J. RADERSTORF - U.S. Army
Hometown / City: PEORIA, AZ MARICOPA
Date of Death: Sunday, January 7, 2007
Conflict: Operation Iraqi Freedom (Iraq)
Branch: U.S. Army
Rank: Cpl.
Unit: TROOP A, 3RD SQUADRON, 8TH CAVALRY, FORT HOOD, TX
Birth: Dec. 23, 1985
Mesa
Maricopa County
Arizona, USA
Death: Jan. 7, 2007, Iraq
Cpl. Stephen Raderstorf of Peoria, AZ., lived in Indiana, California, Uganda and East Africa over the course of his childhood and he was a 2003 graduate of Prescott High School. Stephen graduated from basic training at Fort Benning, Georgia on August 5, 2005 then was stationed at Fort Hood, Texas. He was deployed to Iraq on October 1, 2006. Among his many talents, Stephen was a musician, songwriter, and master of dialects. He could go into character at any time to entertain us. He had a mischievous smile and a quick wit. He was 21.
Army
3rd Battalion,
8th Cavalry Regiment,
3rd Brigade,
1st Cavalry Division,
Fort Hood, Texas.
Burial:
National Memorial Cemetery of Arizona
Phoenix
Maricopa County
Arizona, USA
Plot: Sec 54 Site 2070