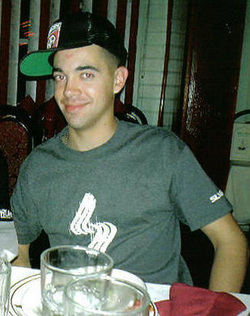 CPL. SCOTT J. MULLEN - U.S. Army
Hometown / City: TUCSON, AZ PIMA
Date of Death: Friday, October 14, 2005
Conflict: Operation Enduring Freedom (Afghanistan)
Branch: U.S. Army
Rank: Cpl.
Unit: COMPANY B, 5TH PSYCHOLOGICAL OPERATIONS BATTALION, FORT BRAGG, NC
Birth: May 27, 1983
Tucson
Pima County
Arizona, USA
Death: Oct. 14, 2005, Philippines
Spc. Scott J. Mullen died on Oct. 14, 2005, while serving on Operation Enduring Freedom - Philippines. Mullen was born on May 27, 1983, in Tucson, Ariz. He was a psychological operations specialist assigned to the 5th Battalion, 4th Psychological Operations Group, U.S. Army Civil Affairs and Psychological Operations Command, Fort Bragg, N.C.
He died Oct. 14, 2005, from injuries sustained in a non-combat related accident.
A resident of Tucson, Ariz., Mullen began his Army career October 30, 2003. He graduated from basic combat training at Fort Knox, Ky. After completing advanced individual training at the U.S. Army John F. Kennedy Special Warfare Center and School, Fort Bragg, N.C., as a psychological operations specialist, Mullen then successfully completed Airborne School at Fort Benning, Ga. He was assigned to the 5th Battalion, 4th POG beginning in November 2004. In September 2005, Mullen deployed to Southeast Asia.
His military awards include the Army Service Ribbon, the National Defense Service Medal, the Global War on Terrorism Service and Expeditionary Medals, and the Parachutist Badge.
Mullen is survived by his mother and father, Wanda and Harold, of Bayfield, Colo.; and his brother, Carl, of Fort Sill, Okla.
Inscription:
Beloved Son Brother & Friend
Burial:
Southern Arizona Veterans Memorial Cemetery
Sierra Vista
Cochise County
Arizona, USA
Plot: 3 80