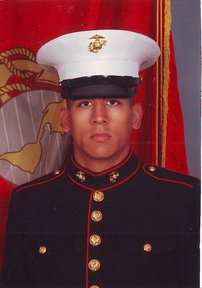 CPL. PHILIP D. MCGEATH - US Marines
Hometown: Glendal, AZ
Date of Death: January 18, 2012
Unit: 1st Battalion, 6th Marines, 2nd Marine Division, II Marine Expeditionary Force, Camp Lejeune, N.C
Birth: Dec. 21, 1986
Abilene
Taylor County
Texas, USA
Death: Jan. 17, 2012
Kajaki
Helmand, Afghanistan
Marine Cpl. Philip Daine McGeath, 25, died supporting Operation Enduring Freedom.
He loved his wife, his family, football, especially his alma mater's Cooper High School in Abilene, Texas, and The University of Nebraska Cornhuskers. He is loved by all and will be missed by so many… OOH-RAH and SEMPER FI... Foreverever.
He is survived by his bride, Sarah Osborne Roppe McGeath. Philip first came home to his parent's David and Phyllis McGeath and big sister, Amber-Laine in a Christmas stocking, an early Christmas gift, and from that day continued to live life to the fullest.
He will be missed by his older sister, Amber-Laine McGeath; her fiance, Matt Allgire and his newborn niece, Calypso Allgire. Phil loved and was loved by all especially his five little brothers, Marine Lance Cpl. Kenneth Lee McGeath II, Marine Pfc. Allen D. McGeath, Vincente, Grayson and Cooper McGeath. Sarah's immediate family include her mom and dad, Martha and Scot Roppe; her sister, Milena Osborne; her brothers, Bruce and Brad Roppe; and Phil's nephew, Zachariah Roppe. He is also survived by his Grandy, Margaret Galvan and grandparents, Kenneth and Barbara McGeath, his special goddaughter, Madi Caruso and many loving aunts, uncles and cousins, friends and his many beloved Marine brothers.
Burial:
Cremated, Location of ashes is unknown.