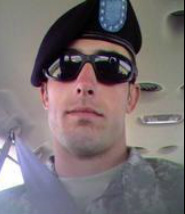 CPL. JOSEPH MICHAEL CERFUS
Hometown / City: N/A
Date of Death: May 5, 2008
US Army Reserve
Birth: Sep. 3, 1984
Death: Death: May 5, 2008
Alberta, Canada
On Monday, May 5, 2008, while participating as a reservist in military training in Alberta, Canada, Joseph Michael Cerfus, 24, was fatally injured in an exercise involving helicopters and heavy equipment. The accident occurred while a Chinook helicopter unit was training as part of the Maple Guardian Exercise, a joint training effort involving U.S. and Canadian forces. Cerfus was one of about 200 soldiers in A Company, 5-159 Aviation Regiment, based at Gray Army Airfield, Fort Lewis, WA.
Ever since Joseph M. Cerfus was a little boy, he wanted to serve his country. At 17, Joseph, joined the Navy and completed two tours in Iraq. Joseph transferred to the USS Lincoln in Everett, WA in 2004, after the death of his brother. Joseph then joined the Army Reserve, and in 2007 became a custody officer for the Snohomish County Department of Corrections.
He is survived by his mother and step-father, Susan and Mark Harr, of Phoenix, Arizona; his father and step-mother, Michael and Linda Cerfus, of Marysville, WA; sisters, Sarah and Amanda, of Phoenix, Arizona; and Kalyn, of Marysville, WA; a niece, Angelica, of Phoenix, Arizona; his fiance, Wendy Susnar; close friends, and many others. Joey will be sorely missed, especially his smile and big heart.
Services for Joseph will be held on Tuesday, May 13, 2008, at Menke Funeral Home in Sun City, Arizona, and Joseph will be laid to his rest at National Memorial Cemetary of Arizona.
A mass will be held for Joseph at 10 a.m., Saturday, June 7, 2008, at Saint Mary's Catholic Church in Marysville, WA for all of Joey's friends.
The Family requests that all those who wish to honor Joseph, please send a donation in his name to: USO World Headquarters Department WS, P.O. Box 96860 Washington,DC 20090-6860
Published in The Herald (Everett) from 5/11/2008 - 5/12/2008.
Burial:
National Memorial Cemetery of Arizona
Phoenix
Maricopa County
Arizona, USA
Plot: Section 53 Site 365