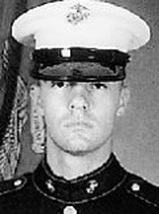 CPL. DOMONIC MICHAEL HOLSTON
Hometown / City: Phoenix
Date of Death: August 31, 2009
USMC
HM3-137A
Sgt. Domonic Holston, 25, serviced with pride in the U.S. Marine Corps. This young man serviced from 2001 - 2005, including 1 tour in Iraq. He is survived by this parents and two children Kaylee and Devin, ages 3 and 2 respectively.
Services are being held at Hansen's Desert Hills Mortuary 6500 E. Bell Rd. Scottsdale, AZ at 9:30 a.m. on Wednesday, Sept. 9, 2009.
Sgt. Holston's final resting place will be at The National Memorial Cemetery of Arizona 23029 N Cave Creek Rd, Phoenix, AZ.