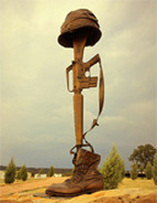 CPL. DAVID M. RANDOLPH - U.S. Marine Corps
Hometown / City: Siloam Springs, AZ
Date of Death: Sunday, October 23, 1983
Conflict: Beirut, Lebanon
Branch: U.S. Marine Corps
Rank: LCpl.
Birth: Oct. 1, 1964
El Centro
Imperial County
California, USA
Death: Oct. 23, 1983
Beirut
Bayrut, Lebanon
US Marine and victim of the 1983 Beirut Bombing. Son of David and Virginia Randolph.
At around 6:20 a.m., a yellow Mercedes-Benz truck drove to Beirut International Airport, where the 1st Battalion 8th Marine Regiment, 2nd Marine Division, had set up its local headquarters. The truck wasn't the water truck they had been expecting, but a hijacked truck carrying explosives. The truck turned onto an access road leading to the Marines' compound and circled a parking lot. The driver accelerated the vehicle and crashed through a barbed wire fence around the parking lot, passed between two sentry posts, crashed through a gate and drove into the lobby of the Marine headquarters. The Marine sentries at the gate were operating under the current "rules of engagement" which made it very difficult to respond quickly to the truck; they had been ordered to keep their weapons at "condition four" (no magazine inserted and no rounds in the chamber). By the time the two sentries were able to engage, the truck was already inside the building's entry way. The suicide bomber detonated his explosives, which was the equivalent to 5,400 kg (12,000 pounds) of TNT. The force of the explosion collapsed the four-story building into rubble, crushing many inside. The attack on the Marine barracks resulted in the death of 241 American servicemen: 220 Marines, 18 Navy Sailors, and three Army Soldiers. Sixty Americans were injured.
Randolph's body was the last one to be positively identified from the bombing and was flown home on a commercial aircraft that landed at the Tulsa International Airport, Tulsa, Oklahoma. The Marine Corps provided an Honor Guard from the Anti-Tank Company Light, 4th Tank Battalion, 4th Marine Division at the side of the plane and covered his casket with the American flag before it was removed from the aircraft. The planes passengers were not allowed to leave until his remains had been removed from the plane. The Honor Guard consisted of Sgt. Rick Lawrence, Sgt Mitch Childs, Sgt. Terry Reagor, SSGt Tom Grinter, SSgt Pauline Grinter and Sgt. Richard Kimball.
Randolph was a Lance Corporal at the time of his death but had been approved for promotion to Corporal. As he lay in state at the Wasson Funeral Home in Siloam Springs, Arkansas, and in a private ceremony, Marine Major Virgil Kinnard III of the Inspector/Instructor staff of the Marine Corps Reserve Center out of Broken Arrow, Oklahoma read his promotion warrant to Corporal. Major Kinnard also bestowed on him the award of the Purple Heart.
Randolph was buried with full military honors at Oak Hill Cemetery in Siloam Springs.
Semper Fi brother....
written by.... Rick Lawrence, MSgt., USMC/USAFR (RET)
Burial:
Oak Hill Cemetery
Siloam Springs
Benton County